99 days of Harmony: Bionic Bar
In:
To celebrate the launch of Royal Caribbean's Harmony of the Seas in less than 100 days, we're counting down each day with some really cool about the ship.  Check out our blog each day for a brand new post all about Harmony of the Seas.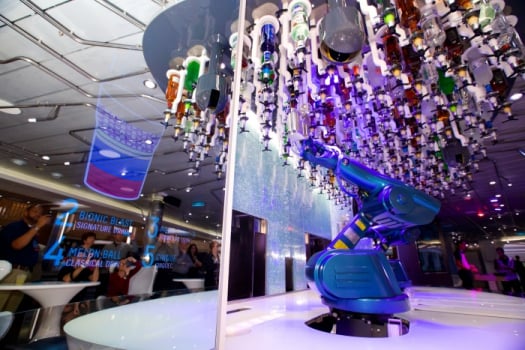 Bionic Bar
Harmony of the Seas is an Oasis class ship, but Royal Caribbean is adding a number of Quantum class features to the ship including one of the more visible ones: the Bionic Bar.
The idea is simple: guests place orders via tablets and then can watch the robot bartenders start mixing the cocktails. Bionic Bar combines two big trends, robotics and mixology.
The single armed robot will get the ice, mints and lemon and then squeeze and shake them to make your drink. Eventually, there wont be a limit on what the drinks the robots can make. The customization is what Royal Caribbean is aiming for.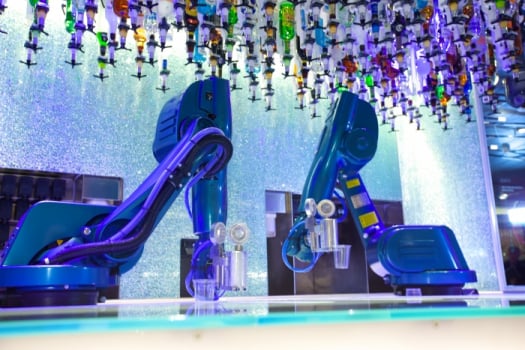 Royal Caribbean has teamed up with Makr Shakr, a company with ties to the Massachusetts Institute of Technology, to create the Bionic Bars and on the Quantum class ships, they have become very popular with guests from a pure spectacle standpoint (and they make some pretty good drinks too).
The two robot bartenders can make two drinks per minute, delivered in plastic cups via four conveyor belts.
Guests walk up to tablets, where they can place orders for drinks, choosing from classic cocktails, signature drinks like Mnemonic Madness (a rum, pineapple juice and Midori concoction) or test the robot bartenders' skills with their own creations.
The bar area is lined with tables, counter seating and even open bar space.
Whatever you order, you can name, and your drink's name appears on a digital screen so you can track when a robot is at work on your order.
In the evening, a DJ spins tunes and guests often hang out around the bar discussing what they ordered with each other.  There are also crew members to help guests, especially when there's a rush of orders.
Stay tuned for tomorrow's post as we celebrate 99 days of Harmony!