In:
Royal Caribbean and the Chinese Imperial Palace Museum (the Palace Museum) held a joint press conference today at a signing ceremony for a Memorandum of Understanding (MOU) agreement in the Forbidden City's Jianfu Palace. 
As part of the agreement, experts from different research fields selected by the Palace Museum will be invited to give lectures of Chinese history and culture to guests on Ovation of the Seas.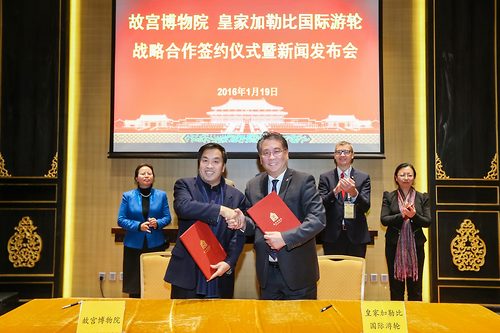 The Palace Museum also will provide professional consultation of the ship's interior décor and art program. In addition, signature pieces from the collections of the Imperial Palace Museum will be on display to promote the traditional culture and arts of China. Paintings and art pieces created by artists from the Palace Museum will be available for guests to purchase at auctions held onboard.
Ovation of the Seas, Royal Caribbean's newest ship that debuts in April, will be the first to homeport in China immediately after its delivery and will begin service from Tianjin beginning June 2016.
The signing ceremony officially launches the "2016 – Let's Ovation" campaign in China and marks the countdown to Ovation of the Seas' maiden voyage in China.
"We are proud of the extensive collection of art and relics that represent the imperial treasures of the Ming and Qing Dynasties and it is our goal at The Palace Museum to showcase the traditional Chinese culture to people all over the world," said Shan Jixian, Director of the Imperial Palace Museum. "This partnership with Royal Caribbean International and our programs on Ovation of the Seas will help to further these objectives. We are excited to promote the rich heritage of the Forbidden City and China to the guests of the world's largest global cruise line and we hope to continue to expand on these efforts."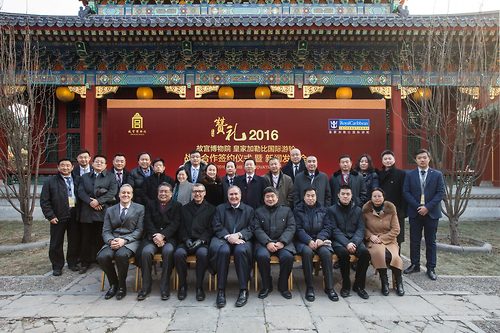 Dr. Zinan Liu, President of North APAC and China, Royal Caribbean International said: "Cruising is becoming increasingly popular with Chinese travelers and Royal Caribbean's award-winning and state-of-the-art ships with features found only on Royal Caribbean are very appealing to those consumers looking for a high quality vacation experience. Quantum of the Seas has been very well received by our Chinese guests and we are excited to now bring Ovation of the Seas to Tianjin. Sailing two of the world's newest and most technologically advanced ships in China demonstrate our leadership and commitment to the market and this partnership with the Palace Museum showcasing China's rich heritage will bring yet another unique element to our vacation offering."
Ovation of the Seas will be officially launched in April 2016, when she departs Southampton for Tianjin, China on a 53-day Global Odyssey. She will begin her first homeport sailing season in China from Tianjin in June 2016. Ovation of the Seas, together with Quantum of the Seas, Mariner of the Seas, Voyager of the Seas and Legend of the Seas, will make up the largest fleet of any cruise line sailing in China.