In:
Royal Caribbean is testing a new punch card system on Grandeur of the Seas for guests to enjoy 10 drinks for a fixed price.
Royal Caribbean Blog reader Rich T shared this photo from the Cruise Compass on Grandeur of the Seas, wher guests could purchase 10 drinks for $89.95.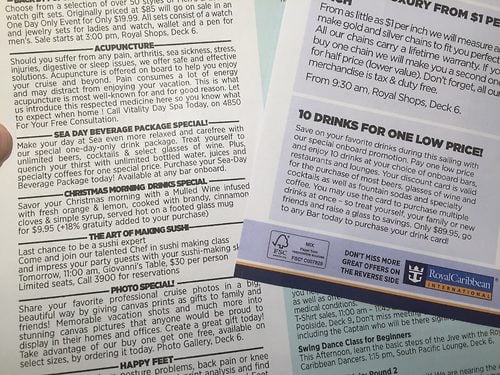 The drink card is valid for the purchase of most beers, glasses of wine and cocktails as well as fountain soda and specialty coffee.
Guests had reported also seeing this kind of a drink card system tested on other ships, including Liberty of the Seas.
This just one of a few tests Royal Caribbean is testing in regards to different beverage packages and price structures these days. With ships full of guests that are more inclined to party with the holidays, it seems to be an opportunity to try offers like this punch card out.
Royal Caribbean spokesperson Celia de la Llama told Cruise Critic, "Ships have been given the option to test different beverage package offerings onboard.  The decision of which program to offer, if any, is made by the ship."
Earlier this week, a one day sea day beverage package was also spotted on a few Royal Caribbean ships.
Would you buy a drink ticket like this instead of an unlimited alcohol package? Share your thoughts in the comments!