In:
Royal Caribbean is celebrating the impending debut of Harmony of the Seas with a new panoramic drawing that has never been done before.
British artist Stephen Wiltshire MBE – Member of the Order of the British Empire created the drawing entirely from memory of the coastal cities of Barcelona, Palma de Mallorca and Marseille, three of the six destinations guests will experience when sailing on Harmony of the Seas.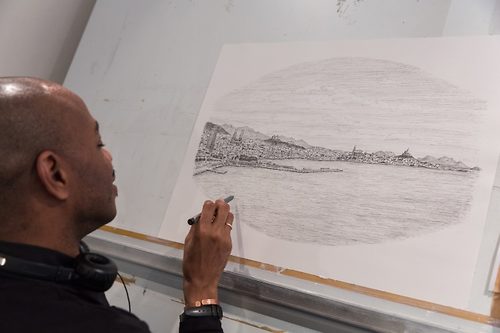 Wiltshire's drawing gives a taste of the views, in startling detail, that discovery-driven travelers will see while sailing the Western Mediterranean next summer.
Utilizing his unique ability to sketch entire cityscapes from memory, Wiltshire merged the three distinct cities into one seamless coastal montage that is anchored by landmarks such as Barcelona's Sagrada Familia, Palma de Mallorca's Castillo da Bellver and Marseille's neo-Byzantine cathedral.  Wiltshire sketched the panoramic view in his London studio with astounding accuracy after committing each scene to memory by carefully scanning the coastline from the top-deck of Allure of the Seas this past summer.  
Debuting in May 2016, Harmony of the Seas will showcase the custom artwork onboard throughout her inaugural summer season, traveling to Europe's most popular cruise destinations on seven-night Western Mediterranean itineraries. 
"It was the first time I've ever been on a cruise and the whole experience and range of activities onboard completely took me by surprise," said Stephen Wiltshire. "The views were absolutely breathtaking. I spent quite a lot of time visualizing the different coastlines of Barcelona, Palma de Mallorca and Marseille and to create the final panorama. It was a pleasure to be given the opportunity to create the piece and I'm thrilled that so many people from all over the world will be able to view my work while on the ship."
"Harmony of the Seas will be the largest cruise ship ever built. Therefore, we wanted to capture something truly extraordinary that reflects the ultimate views people will experience onboard Harmony – and the best destinations they can explore off the ship too," said Stuart Leven, Managing Director – UK & Ireland, Royal Caribbean International. "The Mediterranean coastline is undoubtedly one of the most awe-inspiring places to visit by sea. We just couldn't wait to give our passengers a taste of its beauty and diversity ahead of the launch of Harmony of the Seas."