In:
In just a little under 20 days, Royal Caribbean's Anthem of the Seas will be arriving in the New York City area to begin offering cruises from her new home in Cape Liberty, New Jersey.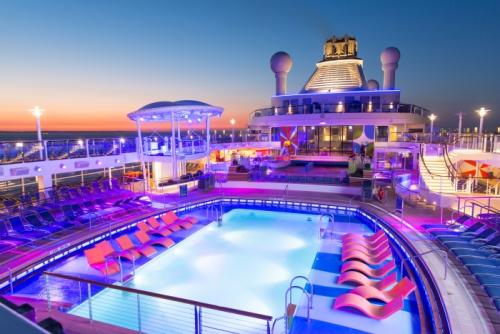 You might be wondering how Anthem of the Seas is different from her sister cruise ship, Quantum of the Seas and we have the list of how to tell them apart!
1. Art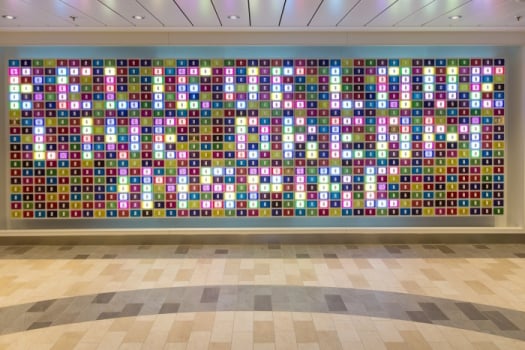 Perhaps the most noticable difference between Anthem of the Seas and Quantum of the Seas is the art work.
Royal Caribbean has added thousands of art pieces onboard Anthem of the Seas and as you explore the ship, you will encounter pieces from all over the world.
Anthem of the Seas even has its very own Picasso!
Once you get onboard Anthem of the Seas, be sure to explore the ship to discover the many pieces of art.  You will find art all over the ship, from the elevators and stairways to the restaurants, staterooms and even out on the decks.
2. Gigi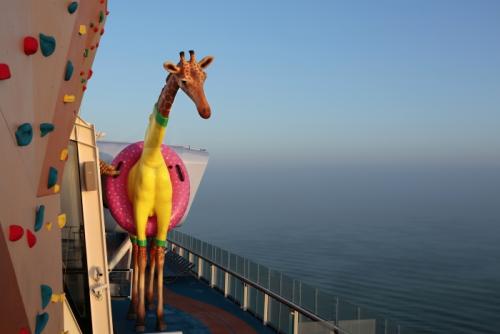 One big difference (and we mean big) is on the top deck is a 32-foot tall giraffe that the crew affectionately have named, "Gigi".
You will find Gigi wearing a bright pink inner tube and yellow swimsuit, just outside the SeaPlex.  
French artist Jean-François Fourtou designed Gigi, and says her purpose is to, " always to show something outside of its natural context."
"I hope people will feel a big surprise — I hope they will laugh, and I hope some of them will feel something emotional because, for me, the giraffe seems almost human with her expression," he says. "Much like being a father, you have to let the kids leave home, and I think it's great that she's going to see the world and have a great adventure."
3. We Will Rock You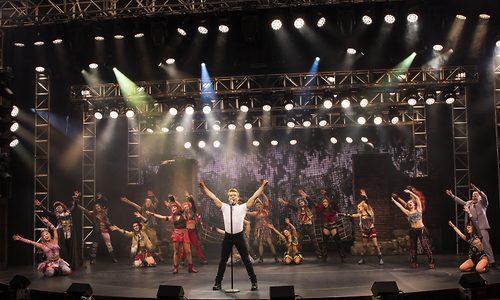 These days, no new Royal Caribbean ship is complete without a new musical and guests on Anthem of the Seas get a chance to rock out to a West End favorite.
"We Will Rock You," performs multiple times on Anthem of the Seas in the Royal Theater.  
The 90 minute show is included in the cost of the cruise and performs some of Queen's greatest hits, while telling the story of Bohemians seeking to restore the power of rock 'n' roll.
Not only is "We Will Rock You" an entertaining and fun show to watch, it is a great example of the first class entertainment Royal Caribbean is known for.
4. Escape From the Future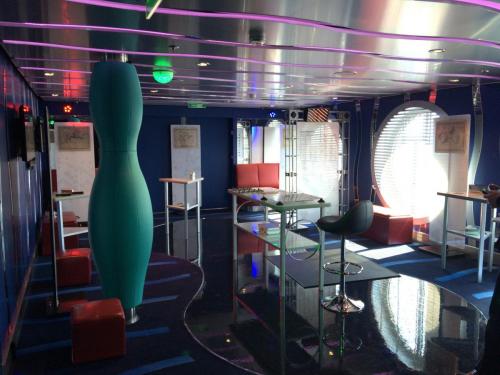 If you are looking for something fun but different, check out "Escape from the Future".
Basically, "Escape from the Future" is a game where teams of guests try to figure out clues and codes to find a key that allows them to escape from the room.  The catch is, guests only have one hour to figure it all out.
This interactive brain teasing game is something very different from other onboard activities and it can be a very fun way to test their wits.
"Escape from the Future" was designed by a land-based company known as Puzzle Break and the all the fun is included in your cruise fare.
5. Stowaway Piano Player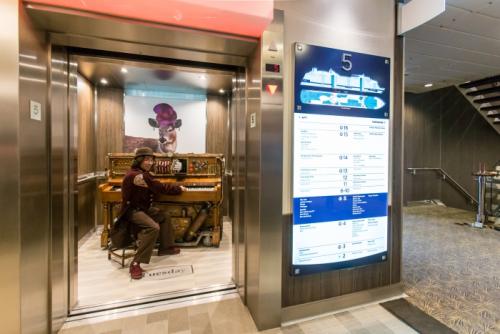 Royal Caribbean is always trying to offer more entertainment that gets guests talking and finding this show may require some random luck.
On the surface, the stowaway piano player sounds like a normal piano player that can crank out some great tunes.  But the catch is you will never know where to find the stowaway!
The piano player is quite mobile, and that means performances can break out almost anywhere on the ship.
In addition, the piano has hidden compartments and functions and can dispense various things, such as lollipops for kids or appear to overheat because of "intense" piano playing.
6. Spectra's Cabaret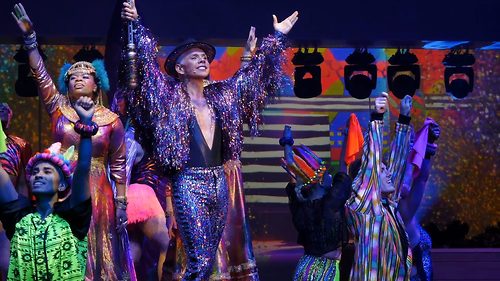 On Quantum of the Seas, the Starwater show in Two70 was very impressive and Royal Caribbean offers a brand new evening show in Two70 called, "Spectra's Cabaret."
This is an original Royal Caribbean production created by Moment Factory, exclusively for Two70 on Anthem of the Seas and it features, "the Maestro and his Agents of Rhythm as they invite you to an electric multi-dimensional cabaret where you will be transported into invisible realms."
Guests that watch "Spectra's Cabaret" will witness a multi-media show featuring kaleidoscopic sounds, effervescent colors and dazzling movement.
Spectra's Cabaret blends live performance and experiential cinema along with music from popular culture.