In:
Since Royal Caribbean added Sabor Modern Mexican to a few of its cruise ships, guests have been loving this new specialty restaurant for everything it offers.
On your next visit to Sabor Modern Mexican, be sure to try these favorites, regardless of if it is your first visit or just first visit that day!
5. The dessert tray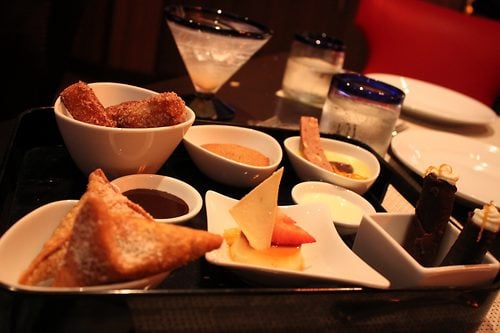 Let us start with the last part of the meal, dessert!
Perhaps the most overlooked aspect of a meal at Sabor is the amazing desserts they have.  
Royal Caribbean has a rich history of offering amazing desserts and the dessert cart at Sabor is one not to be missed.
Your table will be served a small sampling of each dessert, so everyone at your table can sample a little of everything. 
There are a lot of great choices but the churros and chocolate banana empanadas are slap-your-grandma good.  
4. Chips and fresh salsa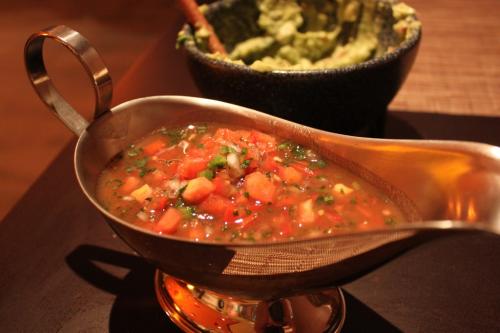 Fair warning, I am a self-admitted salsa fiend.
It seems like the stuff out of a jar you can get at home just does not cut it when you get "the real thing" and Sabor Modern Mexican definitely offers some fresh and tasty salsa.
The salsa you find at Sabor Modern Mexican is served at your table right when you are first seated, and it's some of the best salsa we have had outside of Mexico.
Tomatoes, cilantro, onion all combine to make some of the best dip for your chips we have run across (yet).
My recommendation is save some salsa (or ask for more) for your entrees and liberally drizzle your tacos, quesadillas and anything else you can put in your mouth with salsa for an even more amazing taste. 
3. Tequila flights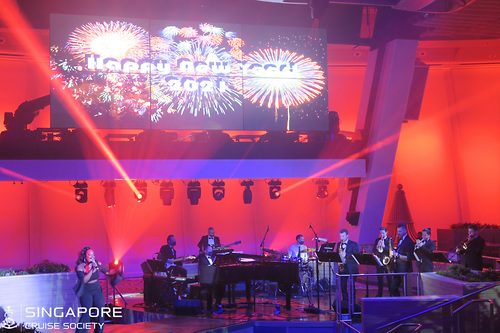 Anyone that really knows good tequila will tell you not all tequilas are made the same and the stuff you might remember from college or that trip to Senor Frogs is not quite the same as real top self tequila.
On the menu you will find two tequila flights to choose from: the vertical or horizontal flights.
Each flights offers a sampling of some great tequilas, including Don Julio Reposado, Sauza Hornitos Reposado and Corazón Reposado.
After sampling these tequila shots, I think you will find not only a smooth and enjoyable drink but also you will be in the right "frame of mind" for much of the evening!
2. Hand crafted margaritas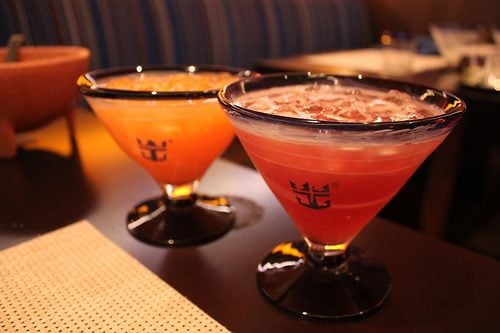 To compliment those tequilas, you have to try the hand crafted margaritas that can only be found at Sabor Modern Mexican.
There are usually two margaritas available on the menu that your waiter will make right in front of you.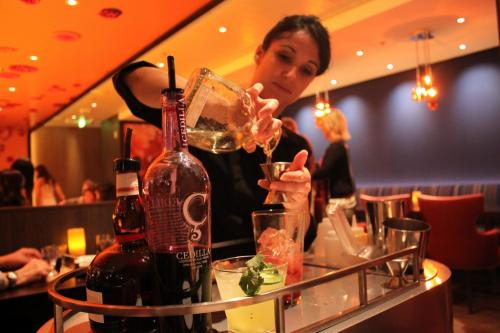 You get the entertainment of having a cart full of margarita ingredients wheeled in front of your table and an explanation of what ingredients are being added to the concoction.
Of course, the pay off is enjoying these magnificent drinks that are a Sabor Modern Mexican exclusive.  
Salud, amor y pesetas. Y tiempo para gastarlas!
1. Hand crafted guacamole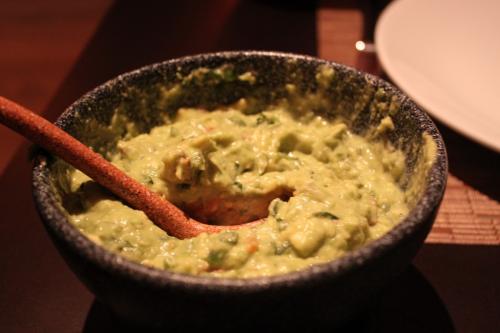 Perhaps the pièce de résistance of Sabor Modern Mexican is the food they are best well known for, the hand crafted guacamole.
No meal at Sabor is complete without a waiter bringing a cart full of avocados, tomatoes, limes and more to your table to create some of the freshest guacamole you will ever eat.
Light and incredibly tasty with a slight kick to it, you can have the Sabor staff make the guacamole exactly to your liking.  Want extra tomatoes? No tomatoes? Really spicy? They can do it all for you.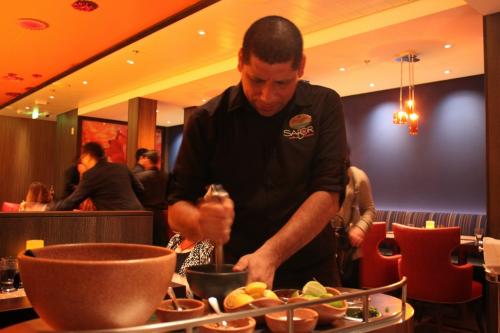 In short, the guacamole at Sabor Modern Mexican is not to be missed and something we have dreams about well after your cruise.  It is the kind of food you will be thinking about well after your meal and the impetus for booking additional reservations!