In:
Royal Caribbean's Enchantment of the Seas offers a lot to see and do onboard on its 3- and 4-night cruises out of Port Canaveral, Florida.  It's become a very popular cruise for those that are looking for a quick getaway vacation, and we present our list of the top must-do's aboard Royal Caribbean's Enchantment of the Seas!
Suspension Bridges
Spanning Enchantment of the Seas' Pool Deck are the enormous suspension bridges that are more than 65 feet on either side that offer some incredible views of the ship.
The bridges are supported by beautiful arches and it allows guests to cross over the pool deck below and are a truly unique feature on Enchantment of the Seas.  
Walking over the bridges, you will be able to see much of the pool deck below and they just come in over the side of the deck to give you a view of the ocean below as well.  The bridges also support the jogging track.
Splash Deck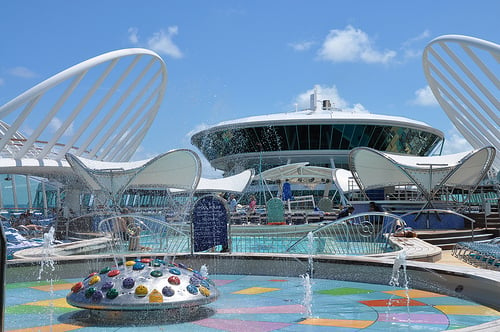 For kids, it's hard to pass up the fun that is the Splash Deck, which features 64 water jets.  Many of these jets are connected to an interactive touch-pad system that allows kids to direct the water in many directions.
When the kids go to bed, be sure to head back to the Splash Deck again because at night it becomes a fiber-optic light and water show.
Jump Zone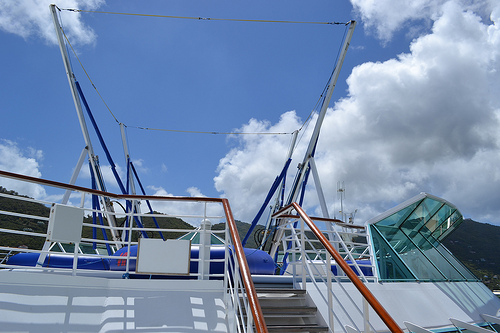 Up on Deck 10, you will find four bungee trampolines on Enchantment of the Seas, known as the Jump Zone.
Guests can be strapped into a harness that is connected to bungee cords and then jump up, down and upside down on inflatable trampolines during two-minute jump sessions. 
You will be able to reach heights of 35 feet or more and practice moves like flips during this exhilarating session.  
R-Bar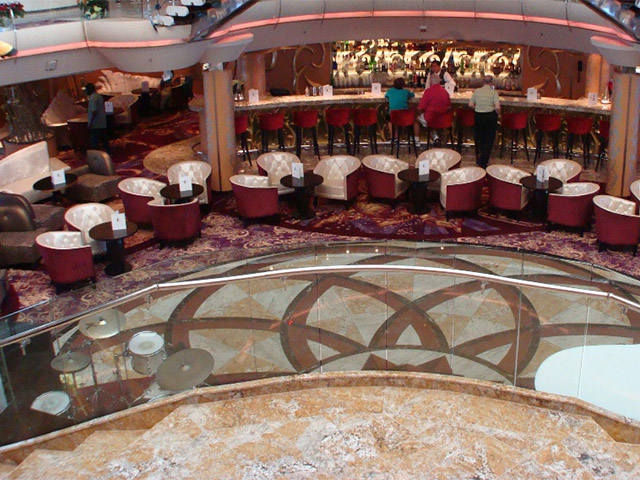 Royal Caribbean's innovative throwback to the bars of yesterday are embodied in R-Bar.  
Royal Caribbean went for a sophisticated 1960s vibe with R-Bar, and it's a great blend of what we love about going out to get a drink with a touch of nostalgia.
The bartenders at R-Bar are your personal mixologist, and can serve up your favorite drink or tantalize you with something completely different.
Outdoor movie screen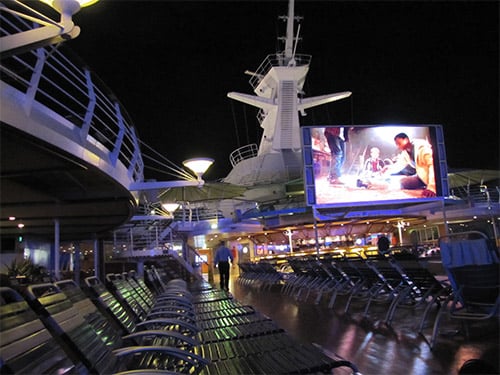 When you combine pools and movies, you will never go wrong.  There's something lovely about enjoying a Hollywood classic while you lounge in (or around) the pool with a warm Caribbean breeze hitting your face.
Each evening, Royal Caribbean presents movies on the poolside movie screen that features surround sound and the perfect backdrop for any flick.
No cruise on Enchantment of the Seas is complete without a late night swim and movie to enjoy.
What are your must do things on Royal Caribbean's Enchantment of the Seas? Let us know by leaving a comment!