Royal Caribbean Secrets: opening the balcony dividers
In:
On Royal Caribbean ships, between each balcony is a divider that grants privacy for each guest, but if you're sailing with a group and have balcony staterooms adjacent to each other, it is sometimes possible to remove the dividers and open up a much larger balcony.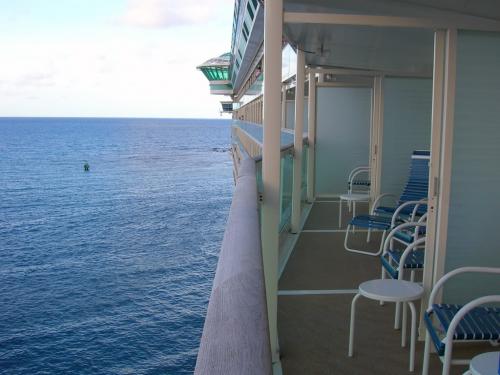 The secret to removing the dividers and opening up your balcony is pretty simple: you just need to ask.  Talk to your stateroom attendant and ask if you can have the balcony dividers opened up because you are friends with the balcony stateroom(s) next to you.
To be honest, the request can sometimes be approved and sometimes denied.  It seems the possibility to due so depends on the ship class and ship management policies.  
In addition, you may be told you have to wait for your ship to leave its homeport before they can take care of your request.  Many cruisers we've talked to about this reported that it was taken care of within a few hours of sailaway.
In general, we've heard on Voyager class ships the practice of opening up balcony dividers is prohibited (many of the ships' balcony dividers are attached to the hull so it's physically impossible) but all other classes of ships seem to allow it. Freedom-class ships seem to be the most consistant in allowing the balcony dividers to be opened. Ultimately, the decision lays with the ship's captain.
In short, you simply need to ask your stateroom attendant and if permitted, you can enjoy a much larger balcony experience as well as have a larger common space to spend time with your friends or family staying near you.