In:
Royal Caribbean is investing $2 million to help prevent Norovirus gastronomic illness from infecting their cruise ships.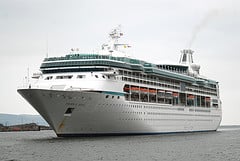 Royal Caribbean has extended its contract with ByoPlanet International and added $2 million to fund the company's disinfectant technology that prevents Norovirus on ships.
Royal Caribbean bought 350 additional ByoPlanet sprayers to add to the existing 10-30 sprayers they have on each cruise ship.
The disinfectant works by spraying electrically charged disinfectants that wrap around surfaces to kill mold, odors, mildew, bedbugs, algae and parasites.
Royal Caribbean has been a partner of ByoPlanet since 2010.