In:
More than 300 passengers Royal Caribbean's Independence of the Seas experienced an onset of gastrointestinal illness on the most recent 5-night Caribbean cruise.
Many news outlets are reporting on the incident, in which the passengers affected reported symptoms that included bouts of vomiting and diarrhea. Royal Caribbean said in statements to media outlets that 332 of the 5,547 passengers and crew became ill.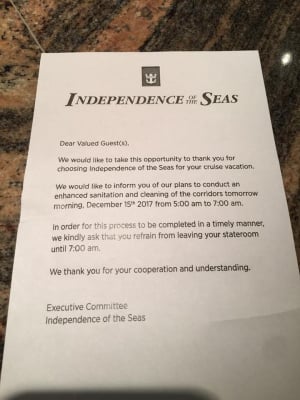 Photo by Mike Dinsmore
Guests were notified of the incidents during the sailing, with over-the-counter medicine provided to treat symptoms. Guests onboard also reported round the clock work by the crew to sanitize the ship throughout the duration of the sailing.
According to the Centers for Disease Control, around 20 million people are infected with Norovirus each year with less than 1 percent of out breaks occurring on cruise ships.