Pro tips on how to ride Royal Caribbean's FlowRider (better)
In: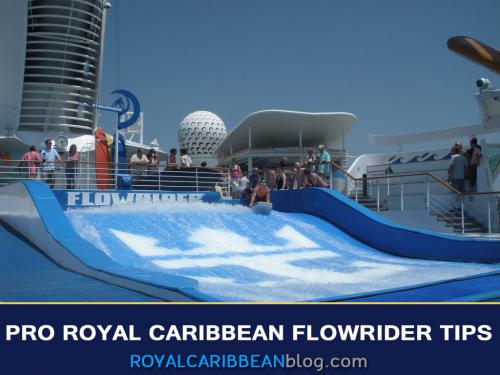 Royal Caribbean's FlowRider is a very popular (and free) activity aboard select cruise ships but if you're anything like me, you aren't a natural born surfer. 
So we reached out to a couple of professional FlowRider veterans for tips on how to master the art of riding the artificial wave.
Our panel of FlowRider experts include
Nick, from All Things Flow13oarding, has been riding the FlowRider for 14 years and is a 7 time bodyboard world champion.
Brandon, from Heinen Motorsports, is a pro FlowRider and wakesurfer and uses the FlowRider to tran in the off season.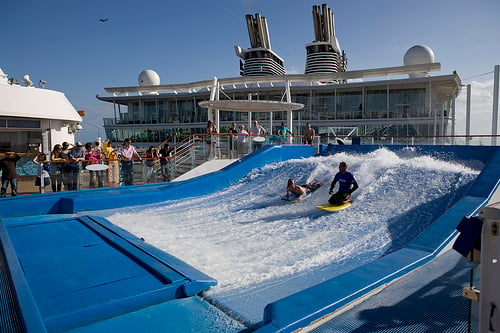 If you were to give someone brand new to the FlowRider one tip to, what would it be?
Nick: On the bodyboard: Hold the board on the side middle rails, keep your elbows on the board and use your legs in the water for speed and to keep the board straight. And most importantly have fun! 
On the Standup Flowboard: Keep at least a steady 80% pressure/balance on the back foot and lean on your back hip while trying to keep your shoulders balanced and pointing towards the front, Try not to twist and turn your shoulders and try to keep the board straight with your feet and hip. When you go on stay low on your back leg and try to go in a straight line with steady pressure and balance on your feet. About 80% on the back and 20% on the front. If the board starts to turn try to put more pressure on the back so that it straightens out. If you start falling get down lower and try to sit so that you fall safely. 
Brandon: I would say to new flow riders. Jst because you skateboard or snowboard or even wakeboard forget what you know and start from scratch. The flowrider is a beast of its own and there is no other sport that water is rushing at you up to 40 Mph.
What do you think the biggest mistake people new to the FlowRider make in terms of being able to stand up on the board?
Nick: Leaning forwards and jerking the board sideways and twisting your shoulders and hip. You want to try to go in a straight line and keep the pressure down on the board a steady pressure on the back.
Brandon: The trick to flowrider is keeping most of your weight on your back foot. I would say 85% of your weight. Stand up straight and don't hunch over. This keeps your weight more centered. When the board wants to turn just roll with it don't fight it. After a few falls you will be floweriding.
Honestly, how much does it hurt to wipe out on the FlowRider?
Nick: It doesn't really hurt at all! It's much like falling on a trampoline with water as padding. Bodyboarding is a much softer fall so that helps you learn how to fall a little safer.
Brandon: The first few falls might hurt a bit and the next day your neck will be sore. But its all in good fun!

Once you get the whole "standing up on the board" thing, what should people try if they want to learn a trick?
Nick: Stay low so you don't fall as hard and try to go slow; Some of the first tricks you can try are: Carving, 360, Ollie, Shuvit (Board Spin)
Staying low helps you keep your balance and more center of gravity. Recording yourself on video helps a lot and can help show you what you might be doing wrong. Watching videos on youtube helsp a lot as well!
Checkout Pro Flowboarders on our website and youtube! www.13roz.com and www.youtube.com/thirteenareowes. Everything is practice and if you try over and over you'll get it!
Any recommendations on best type of clothing to wear or not wear on the FlowRider?
Nick: The best things to wear are tight board shorts, one pieces, shirts/rash guards. 
You're not allowed to wear accessories so be sure to take off your rings, ear rings etc! You might loose them as well as your bathing suit so be sure to have them on tight!