In:
If you want to learn how to surf from the best, the first ever "Flow with a Pro" cruise will take place on Royal Caribbean's Ovation of the Seas in December this year
This special cruise is sailing from Fremantle to Sydney, complete with tuition, expert advice and demonstrations from Adam Wildman, European flowboarding champion in 2013, 2014 & 2016 and Royal Caribbean's home-grown FlowRider Ambassador.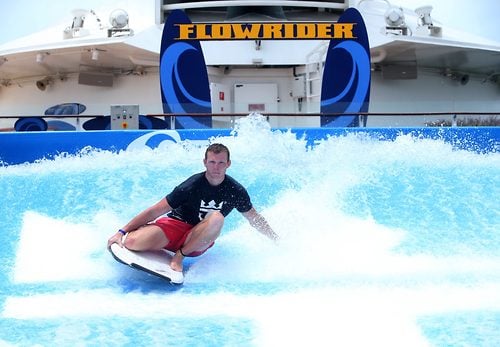 Guests can 'Flow with a Pro' on Ovation of the Seas from Fremantle to Sydney, departing December 6, 2016 for a nine-night cruise. During this cruise, guests will receive access to complimentary group lessons from Adam Wildman, plus he will showcase some of his spectacular tricks with free guest demonstrations along the way.
Adam Wildman first discovered his talent for flowboarding on Royal Caribbean's Freedom of the Seas on a family holiday in 2009, and has now turned his passion into a profession. Hailing from the Gold Coast, his sport takes him all over the world. Having successfully defended his title as European Champion earlier this year, Wildman takes on the best of the best at the World Flowboarding Championships in Singapore.
"If you've ever thought about giving flowboarding a go, Ovation is the perfect place to test your talents. The most important thing to remember is that falling is half the fun! No matter your age or skill, you're guaranteed to have a great time," said Adam Wildman, Royal Caribbean's FlowRider Ambassador.
The signature FlowRider - which can only be found at sea on Royal Caribbean - mimics ocean surf conditions by pumping water at speed over the soft, padded riding area, which riders can 'drop in' on from the top of the FlowRider. Surfers will find it's a slightly different experience to an ocean wave, since the water flows in the opposite direction, making it all the more fun to master. Guests can choose two different riding styles, stand-up traditional surfing and boogie boarding or knee boarding.