In:
The tests are in and the Centers for Disease Control (CDC) confirmed that Norovirus was indeed the culprit in over 600 cruise passengers getting sick on Royal Caribbean's Explorer of the Seas last month.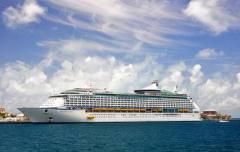 The CDC says the particular strain of Norovirus was identified as the GII.4 Sydney strain, which is named after originating in Australia.
Furthermore, the CDC confirmed today that it is the most common norovirus of about 20 different types in the country right now.  In fact, it affects many more people on land than on cruise ships.
In fact, according to the CDC, over 21 million people are infected with Norovirus each year with less than 1 percent of out breaks occuring on cruise ships.
The GII.4 Sydney strain was identified in 2012 in Sydney, Australia.
Jan Vinje, the head virologist who tested the Royal Caribbean germ samples in the CDC's lab, said Americans should not postpone cruises because of this new norovirus strain. "When we did the math last time, and looked at the total number of voyages annually, maybe less than half a percent had outbreaks. They are perfectly safe."