In:
Dozens of cruise passengers on Royal Caribbean's Majesty of the Seas started feeling sick during a 4-night cruise from Miami.  Royal Caribbean confirms 66 passengers have reported the symptoms of Norovirus.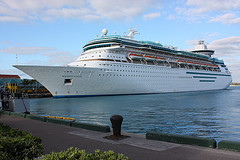 In addition, two crew members have also felt ill.  
Royal Caribbean believes the cause to be norovirus, according to the company's statement.
The Centers for Disease Control and Prevention in Atlanta describes norovirus as a very contagious bug that can be spread by infected persons, in contaminated food or water, or through contact with contaminated surfaces. The CDC says norovirus affects nearly 20 million people in the U.S. each year, and results in between 570 to 800 deaths.
The cruise line said passengers affected by the illness had responded well to over-the-counter medication administered on board the ship.
The company said it enhanced cleaning on board the ship during the cruise to help prevent the spread of the illness.
After the ship docked, the company said it "conducted an extensive and thorough sanitizing on board the ship and within the cruise terminal, to help prevent any illness from affecting the next sailing."
Passengers who boarded The Majesty of the Seas Friday received a letter asking if they had experienced any gastrointestinal symptoms within the last three days. Those who felt uncomfortable were allowed to reschedule their trip, the cruise line said.