In:
We found a new kind of drink card option that allows guests to buy five, instead of ten, drinks per card.
RoyalCaribbeanBlog reader Jane Treppa sent us this phot of the 5 Drinks Savings Card for $35 on Majesty of the Seas.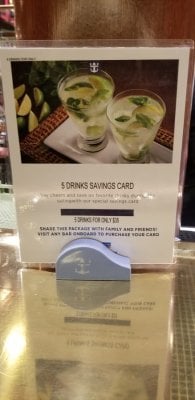 Guests can pay one price for 5 drinks at any onboard, bar, restaurant and lounge that is valid for the purchase of most beers, glasses of wine and cocktails, as well as fountain sodas, specialty coffee and fresh juices. Essentially, it covers the same beverages that the Deluxe Beverage Package does. 
The reason why drink cards are an intriguing offer is because you can share a drink card with other guests, whereas the drink package benefits are not shareable.  Moreover, if one adult purchases the drink card, other adults in the same stateroom do not have to purchase a drink card as well.
Drink cards are a tool that Royal Caribbean uses on select sailings to help spur drink purchases. There is no way to know in advance if or when a drink card would be offered. The decision of a drink card to offer, if any, is made by the ship.