In:
Royal Caribbean UK is now offfering a new brouchure for families that is in digital format, perfect for today's generation of iPad enthusiasts.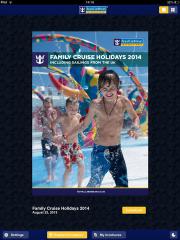 Travolution reports that Royal Caribbean is calling it an "industry first" by having an e-brochure that offers videos and interactive content to help showcase the family-friendly features offered by the cruise line.
With the new e-brochure, you can get access to special early booking offers and a selection of the most popular family-friendly itineraries.
Other features of the e-brocure app are planning guides for parents and a link to the Royal Caribbean's kid-friendly Penguin Ahoy! app.
Marketing and PR director Jo Briody said: "Our new tablet friendly brochure is designed to allow families to plan their holidays together, and to showcase all of our family friendly videos and onboard features in one place.
"We hope that its ease of use and inspiring content will urge more families to consider a cruise for the first time."
The new app is free and available from the iTunes app store.