In:
If there's a type of Royal Caribbean stateroom that gets more questions than any other, it's probably the junior suite.  This stateroom category is available on all Royal Caribbean cruise ships and we thought it would be useful to look at what this stateroom does (and does not) include and why you might want to consider booking it for your next cruise.
Junior suite on Freedom of the Seas. Photo by Royal Caribbean
What is a junior suite?
The junior suite stateroom is the first category of suites Royal Caribbean offers.  The layout and decorations of junior suites vary by ship, but at its core it's a large cabin with private balcony.
In most cases, you will find in a junior suite two twin beds that convert to a Royal King, a sitting area with sofa bed, private balcony and a private bathroom with a bathtub.
The exact size of a junior suite varies from ship to ship, anywhere from 221 square feet on Majesty of the Seas to 299 square feet on Brilliance of the Seas.  Most junior suites are about 290 square feet.
The size of the balcony ranges as well, from 61 square feet on Majesty of the Seas to 94 square feet on Freedom-class ships.  When Quantum of the Seas launches later this year, junior suite balconies will be 161 square feet in size!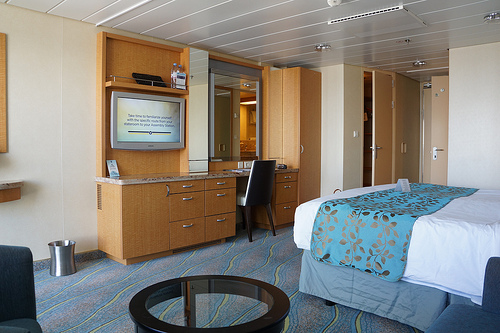 Oasis of the Seas Junior Suite - Photo by boynup
What are the benefits of booking a junior suite?
There are two main benefits to booking a junior suite. First and foremost, is the space this category of stateroom gives you.  Compared to regular balcony staterooms, junior suites give much more living space as well as balcony space on average. 
The other main benefit to booking a junior suite is you get double the Crown and Anchor Society points.  All suites are eligible for double Crown & Anchor Society points.
Of course, junior suites are the least expensive of the suite category and often priced competitively with standard balconies.  For many, booking a junior suite does not require much more money to upgrade yourself to.  
Junior suites also include tea and coffee service ensuite and terry bathrobes (for use onboard).  In addition, junior suite guests receive silver SeaPass cards to distinguish themselves as suite guests to Royal Caribbean staff.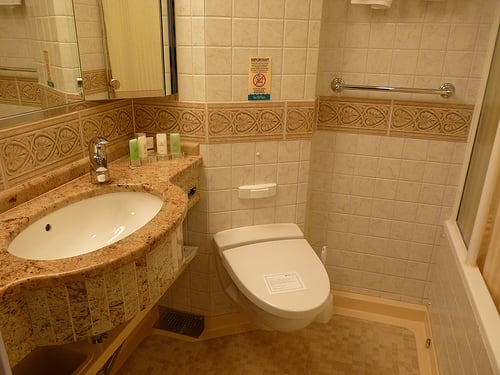 Independence of the Seas Junior Suite bathroom - Photo by David & Cheryl M
What are the disadvantages of booking a junior suite?
Despite the word "suite" being in its name, junior suites do not receive the benefits associated with being a suite guest on Royal Caribbean.  Specifically, this means no access to the concierge lounge or the concierge service.
Summary
Junior suites are spacious staterooms that for many people are an affordable way to splurge without breaking the bank.  
The increased living space makes a big difference when compared to smaller staterooms. It allows for much more comfortable living and avoids the whole "get by your roommate shuffle".  The full tub is also a big deal for many guests, especially many women we hear from.
Granted, you do not get the suite perks that many aspire to get access to, but the double Crown and Anchor Society points are still a good way to move yourself up in the system.