Passenger's body recovered after falling from Rhapsody of the Seas
In:
A passenger fell overboard while on Royal Caribbean's Rhapsody of the Seas cruise and in the subsequent search, the body was found.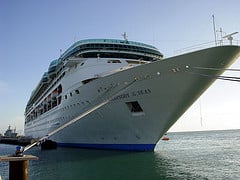 The Sydney Morning Herald reports that the Australian Maritime Safety Authority, the incident occured at 2:00am on Saturday.
Evidently Rhapsody of the Seas was about 300 nautical miles east of Brisbane when the man was seen falling from the ship.  At that time, the ship immediately turned around and life rings and marker smoke were deployed.  Rescue boats were deployed to find the person.
Rhapsody of the Seas was on a nine-night cruise of the south Pacific.
A spokeswoman for Royal Caribbean said in a written statement another passenger had witnessed the man go overboard.
The incident was also captured on the ship's CCTV system, she said.
"The ship's captain immediately stopped the ship, turned around, and alerted the local authorities including the Australian Maritime Safety Authority," the spokeswoman said.  
"...With the assistance of the Search and Rescue aircraft, the Rhapsody of the Seas was able to locate the guest however regretfully the guest was found to be deceased at the time.
"The body of the deceased has been recovered on board the Rhapsody of the Seas.
"Royal Caribbean's care team is providing support to the guest's family and travelling companions and our thoughts and prayers are with them.