In:
U.S. News & World Report's Best Cruises rankings are out, where the magazine looked at 15 cruise lines across a number of categories and Royal Caribbean came out on top for "Top cruise line for the money".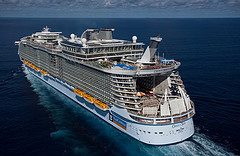 The report compared how the cruise lines were regarded by travel experts, how they were rated by cruise travelers (using data collected in collaboration with Cruiseline.com) and how they fared in health and safety evaluations by the Centers for Disease Control and Prevention (CDC).
Royal Caribbean was named best value because of what you get for what you pay for.  The report says Royal Caribbean, "doesn't sacrifice a quality experience for affordability: Royal Caribbean's fares cover lodging, dining and onboard activities ranging from youth-focused exploits like swimming and ice skating to enrichment programs like language classes and cooking demonstrations."
Royal Caribbean did well in other categories as well.  Royal Caribbean came in second place for "Best Cruise Lines in the Caribbean" as well as "Best Cruise Lines for Families".
In terms of ships, U.S. News and World Reports ranked Royal Caribbean's ships in this order
Oasis of the Seas

Liberty of the Seas
Allure of the Seas
Freedom of the Seas
Mariner of the Seas