In:
Having an infant is a pretty big adjustment to anyone's life but it doesn't mean you can't take a Royal Caribbean cruise vacation.  In fact, going on a Royal Caribbean cruise with an infant is a great way to take a meaningful vacation with your new bundle of joy.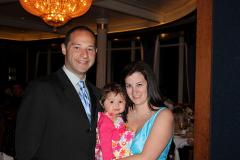 In recent years, Royal Caribbean has really changed how they accomodate very young kids with new facilities and activities just for them.  Having brought my own toddler onboard a Royal Caribbean cruise a few times, I can tell you it's very doable but it always helps to be prepared.
Is your infant old enough to cruise?
It is important to note that Royal Caribbean requires infants sailing on a cruise must be at least 6 months old as of the first day of the cruise. For transatlantic, transpacific, Hawaii, select South American and other selected cruises, your infant must be at least 12 months old as of the first day of the cruise.
Bring lots of supplies
Any parent can tell you there is no such thing as too many diapers or enough formula.  On a cruise, the same rule holds true so bringing enough diapers, wipes, formula, and other baby-centric items is critical because buying these items onboard is limited and in port you may have difficulties in finding the brand you prefer.
A few weeks before your cruise, start getting a sense of how many diapers, wipes, formula your child goes through in an average week.  That will give you a ballpark idea of what you need to pack and then probably add another 25% to give yourself some room.
Babies 2 Go!
Royal Caribbean offers a program called "Babies 2 Go!", where parents can pre-order Huggies diapers, wipes, and cream, as well as organic Gerber baby food to their room both before and throughout their cruise. 
I haven't used this program personally as bring ample supplies yourself is likely the most cost-effective solution, but it is good to know this program is available.
You can purchase the packages by calling (800) 722-5443 in the U.S. or Canada.
Flying? Be prepared for air pressure
Just like adults, if you are taking an airplane to your cruise, the air pressure change during takeoff and landing can cause pain in your toddlers ears.  Unlike adults, they don't know the basic strategies to alleviate the pain.
We've often found bringing a bottle is the perfect solution.  Ideally, try to withold food prior to your flight from when you arrive at the airport until you get on the plane.  Once seated on your plane and the plane begins taxing to the runway, give your child a bottle and let him/her eat through takeoff until you reach at least 10,000 feet.
Bring a stroller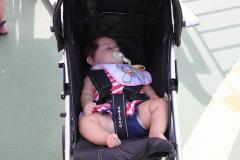 Onboard the cruise ship you may not necessarily find a need for a stroller and it definitely takes up room in your small stateroom, but having a stroller is worth it.  In and around ports of call, having a stroller makes everyone's life easier.
It's also smart to bring a stroller that reclines so your child can sleep in the stroller.  Making it easier for your child to nap is always a plus for parents and it allows you to keep doing what you had planned without being confined to the stareroom.
Pack 'n Plays are available in your room
Don't worry about bringing a Pack 'n Play, Royal Caribbean provides one for your child to sleep in, free of charge .
While the pack 'n play does come with a mattress, we've found it more comfortable for our child to take a comforter and fold it up to place on top of the mattress to act as a small mattress topper.  The difference was quickly evident in how much longer our daughter would stay asleep versus the mattress alone.
Make sure you or your travel agent reserve a Pack 'n Play in advance so it is waiting in your stateroom when you embark on the first day.
Royal Babies and Tots Nursery
The best place for your child for when you need or want a break is the Royal Babies and Tots Nursery.  It's not available on all Royal Caribbean ships yet, but if you are cruising with an infant, be sure to look for a cruise that features one.
The Royal Babies and Tots Nursery is for children between the age of 6 and 36 months old.  These faciltiies are made just for young ones and my daughter loved going here. In fact, we always had a hard time convincing her to leave.  For a small charge per hour, you can do what you want while your child is supervised by trained professionals.  
Dinner time alone is well worth paying for it because you can enjoy a meal in the main dining room or specialty restaurant without constantly dealing with your child becoming bored or making a mess.  
In-room babysitting
If the nursery isn't an option, you can always fall back on in-room babysitting.  It's far more expensive than the nursery but allowing your toddler to stay in your room may be a simpler and more ideal solution.
In-room babysitting is provided by the ship's crew on an availability basis.  You will need to go to Guest Services during your cruise and inquire about availability.  I've had good luck with getting a baby sitter but keep in mind it's on a first-come, first served basis and there are limited baby sitters.
At the time of this posting, in-room babysitting costs $19 per hour.
Group Play Time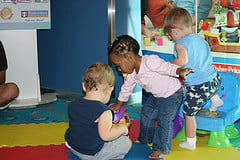 On all Royal Caribbean ships, you will find Fisher-Price sponsored play time.  These events require parental supervision where lots of fun toys are available for kids to play with.
On some Royal Caribbean cruises, there was a room with set hours that allowed kids and their parents to play with the toys most of the day while other cruises had set times.  In both cases, a few luggage bags full of toys are brought for kids to play with.
This is a communal event, so other toddlers may be present and it's yet something else for toddlers to do onboard. 
Naps, naps, naps
While having your child nap in a stroller is always the best-case scenario, often times it doesn't work.  However it's very important for your sanity and your child's enjoyment to keep their nap schedule going.
On days when your ship is docked, getting back onboard for a nap while in port can be rather simple.  If your ship is tendered, you may need to hold off morning plans in port just because of the slow nature of tenders.
I've often fallen prey to the thought of "we can just power through their nap time" and what ends up happening is an afternoon filled with temper tantrums by child and parent alike.
Bring backup
If it's in the cards, bring grand-parents, friends, aunts, uncles and anyone else with you on your cruise that can lend a hand now and then.  
We all love our kids but getting a break is always welcome and it provides your loved ones with an opportunity to spend time with your child while you can do other things.
No diapers in the pool
Royal Caribbean prohibits any children that wear diapers (even swim diapers) in their pools.  The exception is the baby pool, which is available on a few ships such as Freedom of the Seas.  
This baby pool is about ankle deep on a baby and a few feet across.  Infants and toddlers I've seen in it love it, but that's the only allowed space for swimming.
Another alternative is to bring your own inflatable pool with you.  I've found a few inflatable travel pools that can accomodate an infant (diaper or not) that you can bring onboard.  This may be an alternative for toddlers sailing on Royal Caribbean ships that do not have a baby pool.
Washing infant clothing
It isn't a question of if your infant will soil their clothes, but how often they will.  Royal Caribbean provides laundry services to guests for a fee but you can wash infant clothing in your stateroom for a better price.
You can purchase single use detergent powder packets and wash a few baby clothes at a time in your sink.  Then air dry the clothes in your shower using the laundry line.  
So parents of teeny tots, what have been your best strategies for cruising on Royal Caribbean with a baby? What do you wish someone had told you when you first visited as a parent? Let us know in the comments below.