In:
When you pay off your Royal Caribbean cruise and get close to your sailing, there's one important thing you need to do and that's fill out your cruise documents so you can get checked into your Royal Caribbean cruise without delay.
What are cruise documents?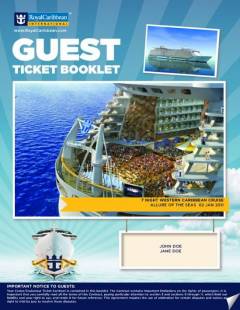 Cruise documents are a set of paperwork that guests in the same stateroom (regardless of last name) will need to have filled out prior to your cruise.  They come in paper and electronic forms (eDoc), with the paper forms costing $35 per document and the electronic form free.  
The documents are a checklist of things you need to do, a list of other services and activities you can pre-purchase, important safety and rules that you can review and a few other notable things.  
What cruise documents are not
Cruise documents are not a boarding pass.  Rather, they are a pre-cruise planner that gives you information about services available to you, waivers to sign and more.
When will I recieve my cruise documents?
If you choose to receive them electronically, you will receive an e-mail with downloading instructions when your documents are ready. If you choose to receive your documents by mail, they will be printed and sent to the address you provided and a $35 printed document fee will be added to your reservation. If you reserve your cruise with a travel agent or a Certified Vacation Planner, your cruise documents are sent to you (or your travel agent) 20-50 days prior to sailing, assuming your reservation is finalized and your payments have been made.
If your cruise documents are available, you can access them through your reservation dashboard in your My Cruises Account on RoyalCaribbean.com. If your documents are not yet available, check back soon. You should also receive an e-mail with downloading instructions when your documents are ready.
Generally speaking, cruise documents will be available to fill out about 30 days prior to your sail date.
What you need to do
First and foremost, you need to fill out the cruise documents and answer all of the required fields.  This will give Royal Caribbean information on who is sailing and provide necessary legal information.  After you are done filling the documents out, you have the option of printing them out.
You should bring a copy of the filled out cruise documents with you to your cruise as a matter of good practice.  Be sure to keep this copy with you in your carry on luggage; Do not pack it in your checked luggage!
In additio to forms to fill out, there are printable luggage tags in your cruise documents that you can print out right away and affix to your luggage once you start packing.  You can print as many luggage tags as you need, and we even like to use luggage tag holders to protect them.