Voyager of the Seas returns to Sydney, Australia
In:
Royal Caribbean's Voyager of the Seas, the largest cruise ship in Australia, has returned to Sydney today to begin her second season there.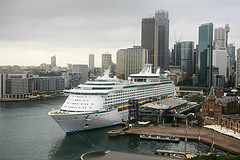 Voyager of the Seas will offer a two-night "sampler" cruise before embarking on a 14-day cruise to the Pacific Islands and New Zealand before returning to Sydney.
Luke Aerowsmith, Voyager of the Seas' cruise director, says the ship's offerings are catered towards the Australian passengers' tastes.
"We have fewer deck chairs out on deck for Australians," he said. "Brits like to spend all day lying in the sun but Australians don't. But they do like to have a barbecue out on the deck so we'll do that.
Voyager of the Seas is based in China during the northern summer and travelled to Sydney via Singapore, Kuala Lumpur, Darwin and Brisbane.
Adam Armstrong, Royal Caribbean's commercial director for Asia-Pacific, says the company would like to bring more big ships to Australia, but the country's infrastructure lags behind the needs of modern megaliners.
"We really need to be catering for more of these big ships," Armstrong said. "Rather than them being an anomaly, making one call every two weeks as it is with this ship, we want the facilities in Sydney to be capable of taking big ships every day of the week, every year. So there is a bit of catch-up to be done."