Royal Caribbean potentially drops new cruise ship name
In:
In late 2012, Royal Caribbean applied for trademarks for six new ship names and went on to use two of them officially (Quantum of the Seas & Anthem of the Seas).  This week, it let one of the names it applied for a trademark to lapse in registration, which could be a sign Royal Caribbean will not be using it as a name of a future cruise ship.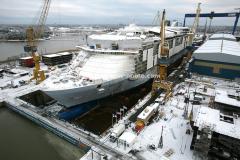 The registration status for Vantage of the Seas changed to "ABANDONED-FAILURE TO RESPOND OR LATE RESPONSE" as of October 2, 2013.
This could be a sign Royal Caribbean is no longer interested in using the name, although there is the potential that this name may have been applied for again in a separate application.
If Vantage of the Seas was in fact dropped from consideration, then the remaining unused cruise ship names Royal Caribbean could potentially choose from is
Ovation of the Seas
Passion of the Seas
Pulse of the Seas
Of course, there is still the possibility that any new cruise ship names could be chosen outside of this list but we'd expect Royal Caribbean to try to protect the name before announcing it.
Royal Caribbean currently has two un-named cruise ships on order, with options for more.  One ship is a Quantum-class ship and the other is an Oasis-class ship.