In:
Royal Caribbean CEO Adam Goldstein is proud of what his company has been able to achieve in terms of success in the China cruise market.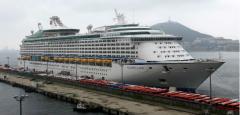 "China is already our third-largest market in the world, behind the US and the UK, which is amazing, and we believe it will grow even more," said Goldstein, president and CEO of Royal Caribbean International.
Royal Caribbean reported the number of passengers embarking on China home-ported sailings has quadrupled from 25,000 in 2010 to 115,000 last year.  This year, Royal Caribbean is expecting to see that number rise to 300,000 guests.
Goldstein believes that it will take some more time, but eventually the Chinese cruise market will eclipse the United States cruise market, however, he does see it will bypass the UK cruise market in the next five years.
Part of Royal Caribbean's success was bringing bigger ships over, including Voyager of the Seas and Mariner of the Seas.
"When we first came to China in 2008, and talked about 2,000 people getting on in Shanghai and getting off in South Korea, no one believed it," Goldstein recalled.