In:
If there's one feature of Royal Caribbean's next-generation cruise ship that is just starting construction, Quantum of the Seas, that is capturing people's imagination the most, it's likely the virtual balconies.  These 80-inch LED screens attached to a wall are promising to deliver an innovative take on the inside cabin.  
Understandably, there's a lot of intrigue regarding this new kind of cabin and people want to know what it is exactly and what to expect.  We don't know everything quite yet, but here's a listing of all the information on virtual balconies that we do know in one place.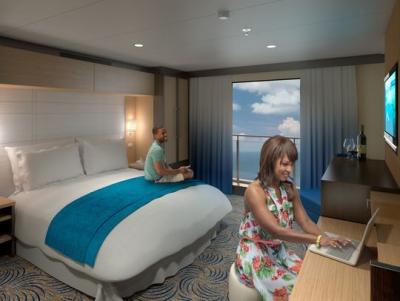 What is a virtual balcony?
The virtual balconies will be 80-inch LED projection screen that stretches from floor to ceiling.  They will offer digital real-time views of the ocean and destinations visible from the ship's exterior.  
It will be displayed in high-resolution color on a giant 80-inch LED screen on the wall of an otherwise windowless stateroom.  It will work at sea and in port.
Will virtual balconies cost extra?
When they were announced, Royal Caribbean CEO Adam Goldstein said there will not be a specific surcharge for interior cabins with virtual balconies, but added that he hopes they will bring higher yields.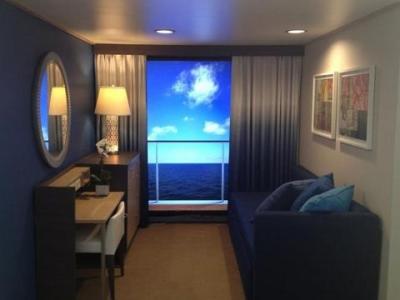 How many inside cabins on Quantum of the Seas will have virtual balconies?
There will be 373 inside cabins on Quantum of the Seas that will offer the virtual balcony feature.
Will any ships other than Quantum of the Seas have virtual balconies?
It's a safe bet sister ship Anthem of the Seas will have virtual balconies along with the unnamed third Quantum-class cruise ship Royal Caribbean has on order.  
In addition to those ships, Navigator of the Seas will receive virtual balconies as part of a previously planned refurbishment.  Navigator of the Seas will go for its refurbishment in December 2013. It is scheduled to sail from Galveston when the upgrades are complete.  Royal Caribbean will use Navigator of the Seas as the "testing ground" for this brand new innovation.
In addition to Navigator of the Seas, virtual balconies will be included as part of scheduled refurbishments for Voyager, Adventure and Explorer of the Seas.  Those ships are set to undergo the revitalization process in 2014-15.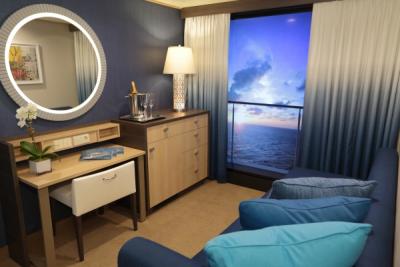 Will the virtual balcony projection be on all the time?
No, you may turn the virtual balcony feature on or off at your convenience.
Where did Royal Caribbean come up with the idea for the virtual balconies?
According to Royal Caribbean Chairman Richard Fain, they got the idea from Disney Cruise Line's virtual portholes that debuted on their ships a few years ago.
"We actually had looked at the idea, and we didn't think that the technology and the receptivity from the public was there," he says. Disney "proved that the public does value something like this."