Top Five Coolest Things about Quantum of the Seas
In:
We're still over a year away from Royal Caribbean's newest cruise ship, Quantum of the Seas, sailing on her inaugural journey but already there's a lot to talk about.  And when it comes to new cruise ships, Royal Caribbean's mission is to "wow" its customers and we've found the top five ways Royal Caribbean is going to do just that once Quantum of the Seas starts sailing.
Virtual Balconies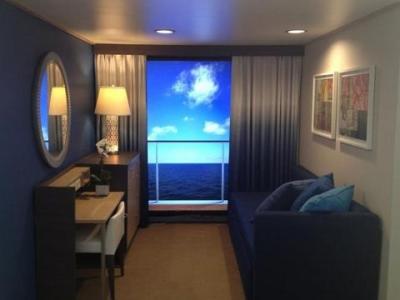 Until now, inside staterooms were always regarded as the least-desirable accommodations for a cruise because, among other reasons, there was no view to enjoy.  On Quantum of the Seas, Royal Caribbean is adding 80-inch LCD screens to some inside staterooms that will display images from outside the ship and give passengers the feel of having a view.
The screens will be broadcasting real time images of the ocean or port so passengers can feel like they are experiencing what their fellow passengers in balcony staterooms do as well.  In addition, the room will feel a little bigger with the optical illusion of the virtual balcony.  All that's missing is the ocean breeze!
North Star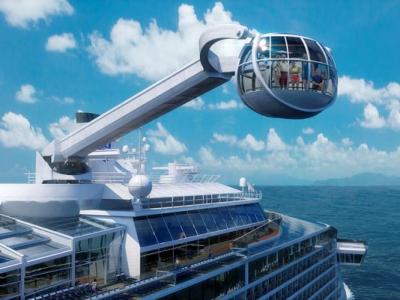 Just looking at Quantum of the Seas, one of the first things everyone notices is the large pod attached to a giant arm on top of the cruise ship.  This observation pod, known as North Star, will allow passengers to go up in the sky above the cruise ship 300 feet above the sea.
First, North Star is something we've never seen on any other cruise ship, Royal Caribbean or otherwise.  Second, being able to survey the area around your ship, especially in port, will really add another dimension of fun to your vacation.  From now on, no set of vacation photos will be complete without the obligatory photos from high atop North Star.
Bumper Cars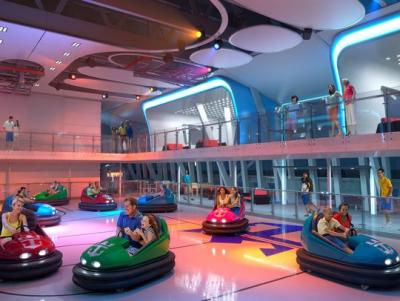 When it comes to doing things on a cruise ship you never thought possible, riding on bumper cars was probably one of them.  Well, Royal Caribbean is taking care of that by offering bumper car rides in their new entertainment complex known as SeaPlex onboard Quantum of the Seas.
In addition to roller skating and sports throughout the day, bumper cars will be the highlight activity available to passengers who want to try something new on a cruise ship.  While bumper cars on land are fun, riding bumper cars at sea is bound to be even more fun just because it's something new.
RipCord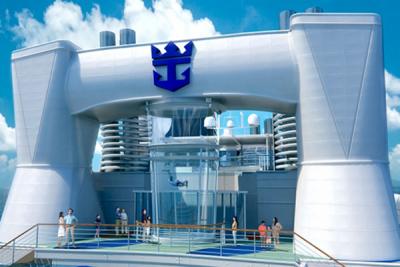 Speaking of things you never thought were going to be possible on a cruise ship, how about sky diving?  Since I would never have the guts to try the real thing (airplanes are for flying, not jumping out of), the new RipCord skydiving simulator sounds like the perfect way to experience the sensation of skydiving without the risk.
Powered by iFly, RipCord promises to let the rest of us feel like we're 10,000 feet in the air.   Following the success of the surf simulator known as FlowRider, RipCord will add another sports thrill for guests to try out and I'm really looking forward to taking the plunge.
Two70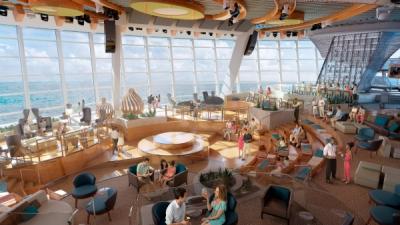 When Royal Caribbean announced their multi-purpose venue called Two70, I imagined a meeting of ideas for what to add to Quantum of the Seas and the two best ideas were a great lounge with a beautiful view and the other was an onboard entertainment show that we've never seen before but there was only space for one. So the idea for Two70 was born; during the day, it's a hip lounge with great views of the ocean while at night, it transforms into a stage for some great acrobatic entertainment.
Transforming one space to offer two very different forms of entertainment is pretty darn cool and if you look at the concept art for Two70, this area is not going to be just another room onboard Quantum of the Seas.  It looks beautiful during the day and night and it also looks quite massive.  I'm excited already to have a drink in the afternoon here and then plan on returning at night to see the show.
Royal Loft with Balcony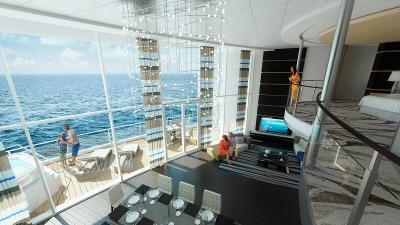 They say a picture is worth a thousand words and after seeing concept art for the Royal Loft on Quantum of the Seas, I'm ready to start saving my pennies for a chance to stay here.  The loft stateroom was first introduced on Oasis and Allure of the Seas and now we're seeing just how amazing a loft idea can be.
There's something to be said about having a stateroom with multiple floors, a massive window and a really large balcony.  I'm not a one-percenter by any means, but I could really get used to cruising in a cabin like this because, well, it just looks amazing.  I guess the only problem with staying in a Royal Loft suite is you'd be tempted to never leave your room!
Experience it with us!
These cool additions to Quantum of the Seas sound pretty cool, right?  Why not experience them for yourself aboard Quantum of the Seas with the Royal Caribbean group cruise aboard Quantum of the Seas!  We're planning a special sailing on March 21, 2015 and we're inviting you to join us.  Get more information right here and see all these cool things for yourself!