Royal Caribbean To Receive The 2013 Invest Caribbean Now Corporate Leadership Award
In:
Royal Caribbean will be honored with the '2013 Invest Caribbean Now Corporate Leadership 'award on Wednesday, June 5th at the Radisson Martinique Hotel, for its substantial commitment in serving the Caribbean region's tourism sector, the current lifeblood of many nations.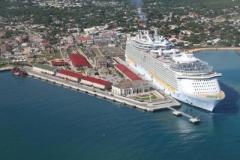 The award is being presented by the Avalon Invest Caribbean Now forum and is presented annually in conjunction with the Caribbean Tourism Organization, (CTO), the governmental arm of tourism; and digital media company, Hard Beat Communications.
ICN officials are honoring Royal Caribbean International this year for generously investing in the region and developing partnerships with governments and local businesses in twenty countries.
Royal Caribbean has invested over $200,000,000 over the last ten years in the Caribbean, including the cruise port of Falmouth, Jamaica; Roatan Honduras Town Center and the cruise port in Belize City. In addition, Royal Caribbean operates its private destinations of CocoCay in The Bahamas and Labadee in Haiti.
Royal Caribbean International's CEO and President, Adam Goldstein and Mike Ronan, the company's vice president of government relations for the Caribbean, Latin America and Asia, will accept the award on behalf of Royal Caribbean.
Goldstein commented on Royal Caribbean being recognized, "The Caribbean has been the heart and soul of who we are and where we go for over 40 years, and we are honored to receive the 2013 'Invest Caribbean Now Corporate Leadership Award.' At Royal Caribbean, our goal is to continue to work closely with the Caribbean so that their ability to retain and attract cruise ships remains as strong and robust as ever and we look forward to being a leader and working to help recognize the region's value."