Royal Caribbean to send Oasis of the Seas to Europe in 2014
In:
Royal Caribbean announced today that it was sending its famous Oasis of the Seas cruise ship to operate in Europe for a short autumn season in 2014.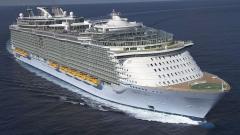 Oasis of the Seas will offer two trans-Atlantic crossings where passengers will be able to experience an exclusive preview of the Quantum-class experience and join in special programs that will amplify the Oasis-class experience.  A 12-night eastbound cruise from the ship's homeport of Port Everglades in Fort Lauderdale, Fla., to Barcelona departs Sept. 1, 2014 and a 13-night westbound cruise will return Oasis of the Seas to Port Everglades from Rotterdam on Oct. 14. Vacationers also can embark the westbound trans-Atlantic cruise at Southampton on Oct. 15.
Once in Europe, Oasis of the Seas will offer a choice of three European sailings.  Guests can choose among two roundtrip sailings on a five-night Western Mediterranean itinerary from Barcelona, and a seven-night Spain itinerary sailing from Barcelona to Rotterdam, The Netherlands, where Oasis of the Seas will enter drydock in Képpel Verolme shipyard for routine maintenance. Additionally, a two-night Bahamas cruise departing on Aug. 30 and a five-night Western Caribbean cruise departing on Oct. 27, both roundtrip from Port Everglades, will bookend Oasis of the Seas' short 2014 Europe season.
Oasis of the Seas' 2014 Europe season will go on sale on April 11, 2013.
"Nothing can compare to the Oasis-class vacation experience, a testament to Royal Caribbean's more than 40 years of innovation," said Lisa Bauer, executive vice president of Global Sales and Marketing, Royal Caribbean International. "Now vacationers can combine Europe's rich cultures and history with the world's largest and most innovative cruise ship for a regional experience that can only be found on Royal Caribbean. And for those who have always wanted more time to enjoy the myriad activities on Oasis of the Seas, our two trans-Atlantic cruises will offer more than enough time to do everything on board, as well as some surprises along the way."