Freedom of the Seas Live Blog - Day One
In:
Today our adventure on Royal Caribbean's Freedom of the Seas begins. We woke up earlier than expected (pre cruise excitement!) and finished our packing and getting everything loaded in the car.
Our basic plan was to be in Port Canaveral by 10:30. We left the house at 9:20 or so and after a quick car ride from Orlando, made it to the port at 10:15. To my surprise, passengers were able to drive right in (I thought they would make us wait). We had arranged to park the car at the Radisson hotel for the week to save some money, so our plan was to drop off the luggage and then park the car at the Radisson and take the shuttle back. Luggage drop off could not have been easier and we made our way to the Radisson. As we got there we saw no less than 30-40 people waiting for the shuttle too! I made an "executive decision" to just park near the ship and avoid what seemed like a long wait. In this case, I was willing to pay a little more to get my vacation started sooner.
Check in for the cruise was simple and quick. After a short wait we were onboard Freedom and on our way!
We went to Windjammer first (of course) and had a light lunch. We sat in Chops and met a very nice waiter named Vuk, who exemplified the quality service I've come to expect from Royal Caribbean. We also decided to buy the soda package for my wife to try out (she loves the Coke Freestyle Machines).
Our cabin was ready a few minutes before 1pm and our E1 balcony is lovely. Weather is cloudy with on and off rain but honestly we could not care less. It's vacation and just being onboard is enough for cheek to cheek smiles.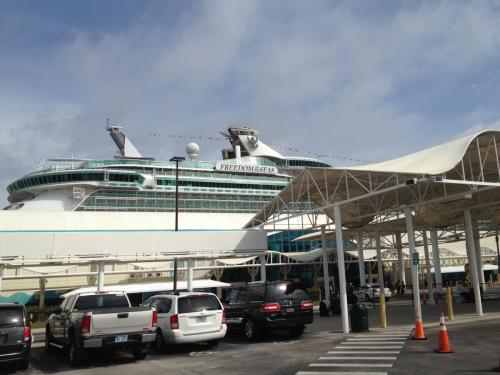 Freedom of the Seas as we arrived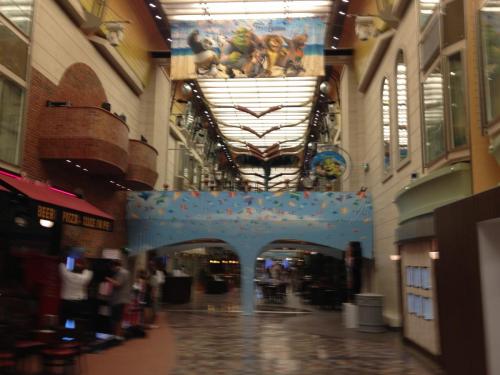 Promenade (Sorry for blurriness)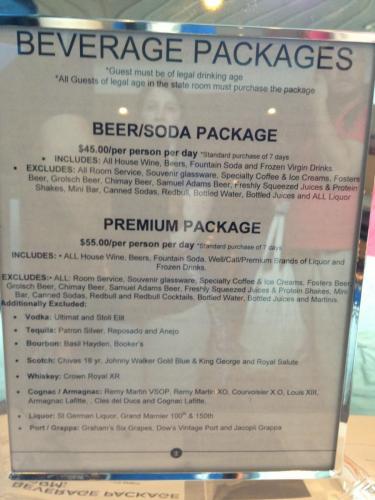 Premium Alcohol Package description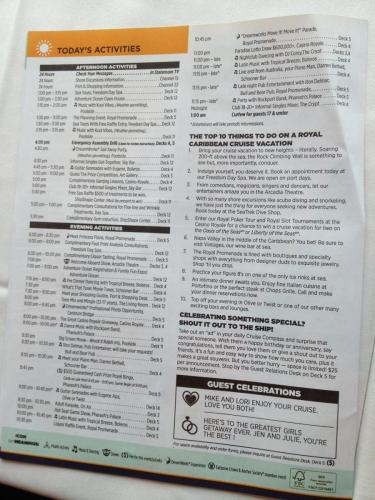 Day 1 cruise compass activities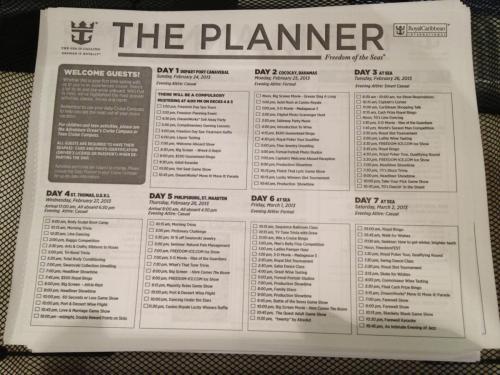 Seven day activity planner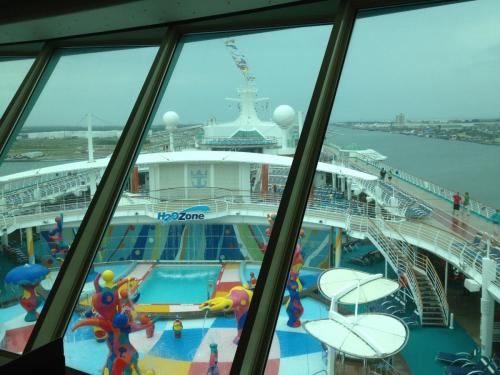 View from the Viking Lounge
One of the things we did once we got onboard was change our dining seating from second seating to first seating. We had been waitlisted for first seating but never got through. We went down to Leonardo's (Main Dining Room) and asked if we could get moved to first seating. Sure enough, they offered us something at a table for 10 and we took it.
With dinner now earlier, following the muster drill we went back to our cabin to watch sail away although we had to get ready for dinner pretty quickly thereafter.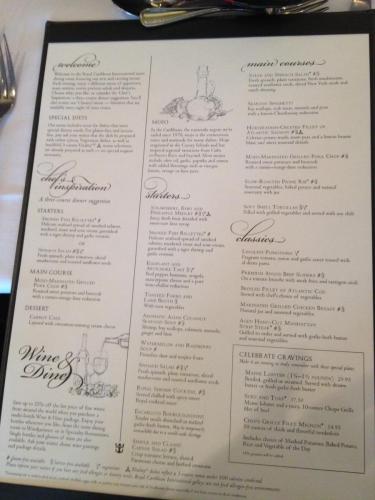 This was our first time with the new menu that Royal Caribbean recently rolled out and it certainly is a little heavy on the seafood (at least on day one). Nonetheless, we found the food to be pretty good all around. I had ordered the lamb broth, soft shell tortillas and the linguini pomodoro.
The lamb broth and linguini were both about what I expected and good but the highlight was the soft shell tortillas were the highlight. A mixture of black beans and grilled vegetables, it was tasty and as someone who enjoys "adventurous eating", it was a treat.
Dessert was the usual. My wife and table mate had the crème brulee and reported it was good, although too much banana and not enough Baileys. That being said, they both finished it off so...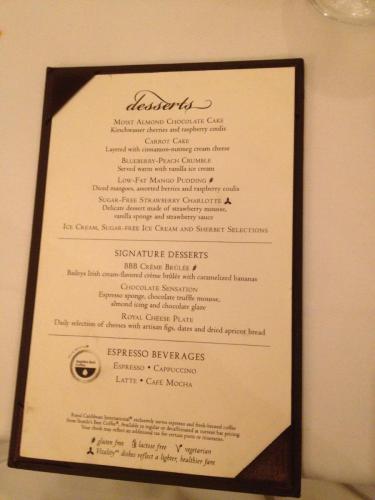 Following dinner we took a walk on Deck 4 and the weather was just perfect. Slight breeze, warm temperatures and low humidity. It was a pleasure to walk the ship.
We swung by the Royal Tots nursery to register my two year old daughter. They reported they had a max of 8 kids at any given time for this cruise as they just had 4 staff members onboard. Not sure if that's high or low but thought I'd mention it. We have used the nursery on a previous cruise so we were fairly familiar with everything so just got her in the system and now we just need to figure out when we will drop her off there.
I decided I wasn't quite full from dinner so went up to the Windjammer to see what was available. My first stop was the Jade section to see their sushi. Most rolls were vegetarian (no fish) and the quality was pretty poor. Poor as in it made supermarket sushi look good.
To my surprise I did find an AMAZING selection of Indian food available. I've always liked Royal Caribbean's Indian food and the selection of chicken curry, lamb curry, aloo gobi, mango chutney and more was really, really good. Great flavor and plenty of spice, it was the kind of food that after eating it I had wished I just ate that exclusively earlier in the evening.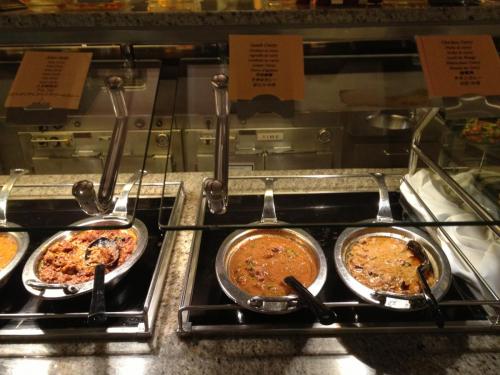 The first day onboard was exactly what we expected and we loved it. My daughter loves it and we're hoping she's going to branch out a little on this cruise and try some new things to her. For us, we're excited to get the cruise going and begin our little adventure. Tomorrow is CocoCay and weather looks good. I'll post an update tomorrow!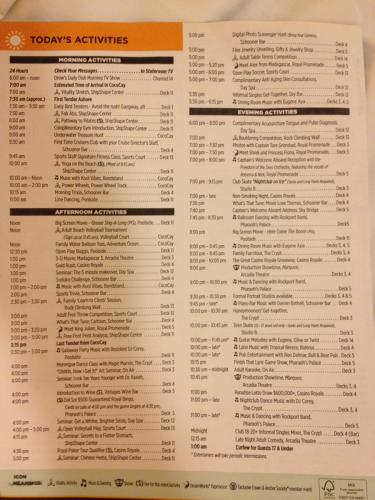 Day 2 cruise compass activity schedule