Voyager of the Seas to set new cruise ship record in Taiwan on Friday
In:
Royal Caribbean's Voyager of the Seas, the largest cruise ship in Asia at the moment, is scheduled to dock at Keelung Port in Northern Taiwan on Friday, which will set a record for daily cruise ship traffic in Taiwan's seaports.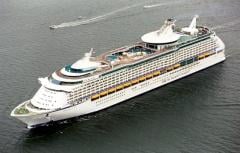 Keelung Port Vice Manager Wei Shuo-liang confirmed the record will occur when the 140,000 ton vessel will bring its passengers to Taiwan.  Voyager of the Seas' arrival along with other ships in port will be enough to bring some 10,000 tourists through the port and make it Keelung's busiest day.
"It will also set a record high for daily cruise traffic in all ports in Taiwan," he added.
Royal Caribbean's Taipei office said earlier this year that the plan for a port call at Keelung signals the cruise line's plans to make inroads into the Asia market.
According to the local office, Royal Caribbean is also evaluating the possibility of making Keelung its home port in the Asia region.