Jamaica Port Authority talks about future of Falmouth port
In:
William Tatham, Vice President of Cruise Shipping and Marina Operations, spoke about the future of Falmouth, Jamaica.  Falmouth is a $220 million project that is a joint project between the Jamaica Port Authority and Royal Caribbean.  It opened last year and has been a major success.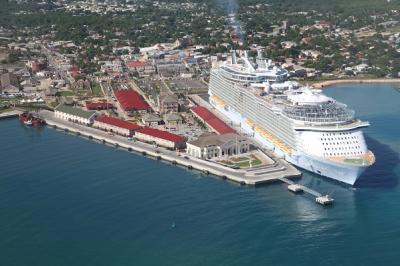 The opening of Falmouth has increased Jamaica's birthing capacity by 50%, which has sparked Jamaica's overall growth by 20%.  As part of the project, Royal Caribbean has put a majority of their existing business to visiting Falmouth but the port is looking at other lines, such as Disney Cruise Line.  Falmouth invited Disney to come down and visit the port.
The future of Falmouth looks bright as well, with 85% of the shore-side retain entertainment now open and by fall the world's largest Jimmy Buffet Margaritaville will open.  When it does it open, it will be an enormous and elaborate facility including a pirate ship on its side, waterslides, jaccuzis and bars.
Royal Caribbean is also working with Jamaica about what the next phases will hold.  There are 30 acres to work with and the port wants to create activities and venues that will be attractive to the cruise passengers but also to pull travellers from the North coast. Realistically work will probably start on phase 2 in the summer, but  both sides are exploring a number of ideas.