Royal Caribbean to complete designs for new Batumi port in September
In:
The port of Batumi in the Republic of Georgia will see 14 cruise ships visit it this year, with 8 confirmed and the other 6 in the negotiations.  All the cruises will visit the brand new cruise terminal that Royal Caribbean has been designing.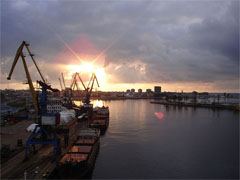 The Deputy  Head of the Department of Tourism and Resorts of Adjara A.R, Sophio Lazishvili, commented on the work, ""In September 2012 the cruise company Royal Caribbean will complete the design works for the new port. Actual construction will begin in October 2012."
The new cruise terminal has hopes it will draw more cruise ships to the port.  Representatives of travel agencies say they do not offer cruises to Georgians because of the sheer lack of demand.
Royal Caribbean struck a deal with the port of Batumi back in June of 2011 to help develop the port for cruise ship traffic.