Royal Caribbean agrees to help develop Batumi port in Republic of Georgia
In:
Royal Caribbean Vice President of Commercial Development John Tercek and Chairman of Adjara's government Levan Varshalomidze signed a memorandum of cooperation in the development of the Batumi port to allow the port to accomodate large cruise ships.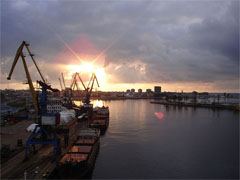 Batumi is a seaside city on the Black Sea coast and capital of Adjara, an autonomous republic in southwest Georgia.
Varshalomidze told reporters that together with Royal Caribbean International will do everything to Batumi became more attractive for passengers of cruise ships.
"We will work together to build this port city to international standards and will return the old traditions. Together we are working on putting Batumi in the Black Sea region as the most attractive city for cruise ships," - said President of the Government of Adjara.
According to John Tercek, they familiarized themselves with the tourism potential of the city and the pace of development. "The memorandum creates the possibility of launching the first phase of work. We fully explore the perimeter of the port, the arrangement will provide the infrastructure. We will hold talks with the major cruise companies, to one of the stops of their ships was Batumi," - said a representative of Royal Caribbean International.
This spring, a delegation of Government of Adjara participated in the largest travel trade show in Miami, where they had preliminary discussions.