Royal Caribbean expects to double its business in Middle East
In:
Helen Beck, Royal Caribbean's regional director for the Middle East, expects to more than double its business in the Middle East over the next three to five years.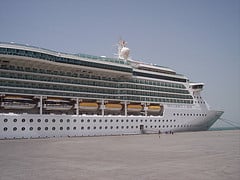 "Over the next three to five years, we plan to more than double our business in the Middle East, and possibly even triple it."
Beck said that Royal Caribbean recorded a compounded annual growth rate of about 40% in guest volumes and revenue in the Middle East over the previous five years. Beck expects that momentum to continue despite some recent challenges to cruising, such as the political instability that has struck a number of countries.
Despite the "Arab spring" that disrupted the regimes of many Middle Eastern countries, Beck claims that business was relatively unaffected, "Royal Caribbean suffered no negative impact during the Arab Spring. On the contrary, we recorded a 30 per cent growth in the Middle East in 2011 over the previous year."
For Royal Caribbean, the United Arab Emirates represents for 25-30 percent of its business in the region.  In total, about 15,000 passengers constitute the Middle East cruise region for Royal Caribbean.
Asked how the company is expected to fare in 2012, Beck said the year will be a tough one as Eurozone troubles are likely to have an impact on the cruise market. "However, we are not solely dependent on the European markets," she said. Beck said that while the North American market accounted for 80-85 per cent of Royal Caribbean's business until five years ago, in 2012 the cruise line expects its revenue to be equally divided between North America and the rest of the world.