Voyager of the Seas ends Adriatic cruise season
In:
Voyager of the Seas' Adriatic cruise season has come to a close after her stop in Ravenna, Italy. Voyager of the Seas has wrapped up its inaugural season in the region, after debuting in the city of Ravenna back on May 30, culminating in 20 stops to Ravenna from May to October, for a total of nearly 77,000 passengers.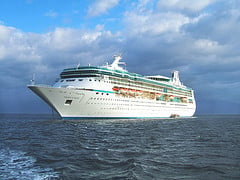 For the winter season, Voyager of the Seas will move back  to the Caribbean from November to March 2012, where she will do 7-night itineraries.
Royal Caribbean will also debut another ship in 2012, Serenade of the Seas between May to October 2012 and will stop in Ravenna five times during her  12-night itineraries in Spain, Italy and Croatia.