Alicante, Spain busy with Royal Caribbean cruises this week
In:
The Port of Alicante, Spain this week has received more than four thousand tourists arriving on board the biggest cruise ship that sailed the Mediterranean Royal Caribbean's Independence of the Seas. Independence of the Seas arrived at 8 am and departed at 4.30pm on Monday.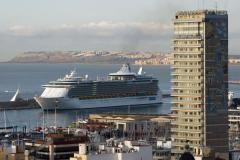 After just a few hours there were no shortage of visitors to Santa Barbara Castle and the Old City. According to the cruise line, these are along with the beach, are the great attractions of Alicante. Some charms, together with the short time of docking, the majority opted to stay in the passage in the city.  
The activity around a cruise begins early to use the time in port at 8.30am, where cruise ships dock, was already a hive. Nine buses, three of them bound for Benidorm for being the most requested tour and the rest to other parts of the province as Novelda, Elche, Guadalest and the Fuentes del Algar, waiting for the tourists to drop ship. Royal Caribbean explained that prices of the tours range from 19 euros it costs to transfer by bus to Benidorm to 35 or 45 euros for those who leave the other tours. 
"We've never been to Benidorm, but we hear it's beautiful," said Jean and Ray, a married Australian who traveled to the English port of Southampton to climb aboard this floating hotel.  
But "most people will visit for free the city and especially to the beach," said Coralia Leopea, responsible for Royal Caribbean's excursions. Hence the line of tourists can be seen walking along the pier throughout the day and the constant trips that a shuttle bus between the boat and access to the port to avoid the long ride cruisers without shade.