Falmouth helps propel Jamaica into top 10 fastest-growing cruise destination
In:
Jamaica is back in the top-10 fastest-growing cruise destinations in the region after not making the list for the last five years.  Jamaica posted double-digit growth between January and May 2011, growth that has coincided with the opening of the Falmouth cruise port in February of this year.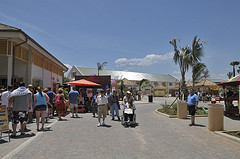 Since February, Falmouth has seen nearly 181,650 passengers and 65,400 crew arrive which translates to generating $15.8 million in passenger expenditure.  
Falmouth was developed by the Port Authority of Jamaica in partnership with Royal Caribbean Cruise Limited (RCCL), whose investments were estimated at $167 million and $102 million, respectively.  Royal Caribbean has promised to send eight million cruise passengers over the next 8 years into Falmouth.
Ahead of Jamaica is St Maarten with 21.5% growth, followed by the Bahamas at 16% and Jamaica in third with 12.6%.