Royal Caribbean returns "Royal Life" program to Brazil cruises
In:
Royal Caribbean is bringing back its sports and fitness program for this year's cruise season, called "Royal Life". With cruises out of Santos, Brazil on January 27 and Rio de Janeiro on January 28, the goal is to combine leisure cruise vacation, wellness and health care. On board, passengers will be able to exercise, attend lectures on nutritional counseling and relaxation.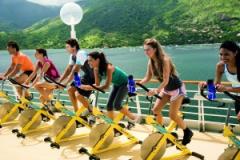 For a week, adults and children will hold various activities overlooking the sea and the beautiful beaches of Brazil. The cruise participants will attend spinning classes, rhythms, hydrobike, pilates, yoga (at sea and ashore), kids yoga and contest for the whole family. To help keep in shape, the ship's menus will have options for eating lighter and healthier. In this new edition to be in charge of new partnerships between the Royal and renowned professionals in the areas of sports, wellness and nutrition
The Royal Life cruise costs from R$ 203.80 10x + R$ 81.52 per person, no fees, inside cabin double. The feeding schedule and activities are included.