Criticism over Royal Caribbean's decline in included food
In:
MSNBC posted a column lamenting the decline in the amount of food that is included on cruise ships these days and used Royal Caribbean as an example. Citing the increasing cost of specialty restaurants, author Sean O'Neill pointed out how cruise lines like Royal Caribbean are emphasizing more and more the specialty restaurants that cost extra.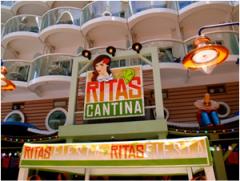 The large part of O'Neill's point was centered around Rita's Cantina and the Seafood Shack, found on Royal Caribbean's Allure of the Seas (among other ships not mentioned). 
Passengers used to pay $8 for meals at Rita's Cantina, for instance. They'll now pay a fee of $3 to dine at the restaurant and then pay a price for each item ordered a la carte, too. The 15 percent gratuity isn't included either. 
O'Neill feels that neither Rita's nor the Seafood Shack constitute "premium restaurants" and the quality of the food is low enough that it ought to be included in the price of the cruise.  Adding insult to injury, O'Neill points out that the prices have gone up too with Royal Caribbean's recent decision to charge a restaurant fee and an a la carte charge.
What really concerns O'Neill is the path he thinks the cruise lines are going down of serving worse and worse food in the main dining rooms so that guests will feel more inclined to pay extra for the good food.
Yet the danger here is that all cruise lines will begin to serve sub-standard food in their main dining rooms. After all, by making the dining hall experience less attractive, a company can make more money by upselling customers on fee-based meals elsewhere on-board.
O'Neill was sure to point out that this trend isn't limited to Royal Caribbean, he was simply using it as an example of a trend happening all over the cruise industry.