Richard Fain talks about Royal Caribbean's emphasis on Australia
In:
Royal Caribbean Chairman Richard Fain spoke with CruiseMates about the company's decision to move more of its ships to Australia and the reasons for the change.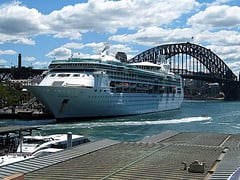 In 2012, 2 Royal Caribbean ships (Rhapsody of the Seas, Radiance of the Seas) and 2 Celebrity ships will call upon Australia for a number of cruises.
Asked about the potential for over-saturing the Australian cruise market, Fain seemed confident that Royal Caribbean could easily adjust, "Keep in mind the flexibility of our product. If something does not work out we can always change our plans and put our ships somewhere else."
Asked if Royal Caribbean considers what other competitors are doing or if the decision to move ships to an area is based purely on Royal Caribbean, Fain responded, "We really just look at our own brand."