In:
A large group of senior policymakers from Liguria and Genoa, with the Mayor Marta Vincenzi, Claudio Burlando, President of the Region and President of the Port Louis Merlo, welcomed with great enthusiasm the first stop in Genoa of Royal Caribbean's Mariner of the Seas.  Mariner of the Seas will make seven stops during this summer, while 14 are expected in 2012, for a total of 60,000 passengers.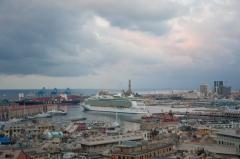 In addition, as announced by Lina Mazzucco, general manager Royal Caribbean in Italy, "the company could become a shareholder of the passenger terminal of the Maritime Station, saw the new commitment of the port of Genoa."
At the first port of Genoa, Mariner of the Seas was also the scene of an opportunity to present the Royal Caribbean's partnership with the Telethon Foundation, a group that conducts research on genetic diseases.  Along with the testimonial of the initiative in Genoa - Olympic gold medalists Valentina Vezzali, Juri Chechi, Antonio Rossi. Royal Caribbean's Director of cruises in Italy, Lina  Mazzucco has provided details of the collaboration, which will be held with regular donations by Royal Caribbean, charity dinner on board ships arriving in Italy, and hospitality on board for the regular meetings of researchers from the Foundation.