Wall Street expecting good news from Royal Caribbean's Second Quarter Earnings Call
In:
Royal Caribbean will announce its second quarter 2011 earnings on Thursday but financial analysts are expecting some good news to be coming from Royal Caribbean.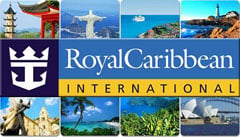 Analysts expect a profit of 44 cents per share, which is up 57.1% from Royal Caribbean's actual earnings for the second quarter of 2010.  This estimate has gone down over the past three months from 58 cents, but the 44 cent estimate has been unchanged for the last month.  For the year, many analysts project a net income of $3.17 per share, which is an increase of 48.8% from 2010.
These bullish predictions are based in part on Royal Caribbean's past performance over the last few quarters, especially the first quarter of 2011 when Royal Caribbean beat earnings forecasts by 18 cents.
In terms of revenue, analysts expect Royal Caribbean to post $1.8 billion in revenue for the quarter, which is an increase of 12.5% from the year ago quarter.  Total revenue for the year is expected to be $7.61 billion, an increase of 12.7% from last year's revenue of $6.75 billion.