In:
Royal Caribbean had decided to move its Serenade and Adventure of the Seas ships out from San Juan, Puerto Rico in favor of Europe as part of a business decision to chase higher revenue and that move has some in Puerto Rico worried about the relevance of the cruise industry to the island.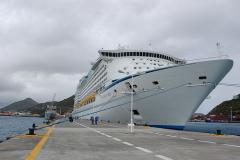 The executive director of the Tourism Company, Mario Gonzalez Lafuente, said that Puerto Rico remains a major cruise port and denied that the relocation of two ships represents a crisis for the industry in the country.
He said that the information circulated earlier this week and Tourism had advance. "It's a business decision that has taken the company Royal Caribbean to do this next year."
He said that both ships will return to Puerto Rico for the high tourist season in the winter of that year, which covers the months of November to May.
He added that other Royal Caribbean ships, which he identified as the Freedom of the Seas and Navigator of the Seas will continue their regular visits to San Juan and are not affected by the above decision.
According to Gonzalez, returning or coming for the first time to Puerto Rico the following cruise ships: · Carnival Dream, · Celebrity Silhoette, MSC Poesia, Norweigan Sun, P & O Artemis, Grand Princess, Azamara Journey, Freedom of the Seas, Navigator of the Seas the Disney Fantasy, which is scheduled to start their visits in late 2012.
According to statistics from the Florida Caribbean Cruise Association, last year 2010, nearly 15 million passengers took cruises in the Caribbean, an activity that generated over $ 2.200 billion in revenue for the region.