Royal Caribbean passenger traffic up at Port Canaveral
In:
Cruise passenger traffic is up for Royal Caribbean at Port Canaveral, Florida.  The amount of passengers for Royal Caribbean's ships based out of Port Canaveral is up 1 percent for the year at nearly 360,000.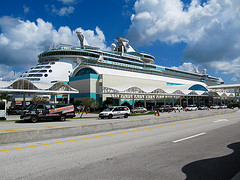 This figure is slightly skewed when you consider the fact that Royal Caribbean ships have made nine more voyages out of the port so far this year.  Royal Caribbean has matched competitor Carnival Cruise Lines in replacing smaller ships with larger ones at Port Canaveral during the past two years.
Royal Caribbean currently home ports Freedom of the Seas and Monarch of the Seas out of Port Canaveral for year round trips. 
Port officials also report total cruise revenue is up year to date about 19 percent.