Royal Caribbean strikes deal to keep headquarters in Miami
In:
Royal Caribbean announced at a Miami-Dade County committee meeting yesterday that they have negotiated an agreement with Miami-Dade County and Port to keep its corporate headquarters in Miami, Florida. Royal Caribbean also struck a deal to continue using a cruise terminal there as well.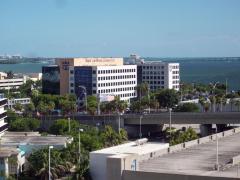 Prior to the announcement, some speculated about Royal Caribbean's plan to keep its headquarters in Miami with the building lease coming to an end in 2011 and 2014.  Back in 2010, Royal Caribbean chairman Richard Fain declined to comment on on future plans about the headquarters or future sailings from Miami.
Royal Caribbean senior vice president of land operations, Craig Milan, talked about the negotiations to keep Royal Caribbean in Miami, "We've been going through this negotiation process for many months now, and like any long-term relationship, you have your ups and downs.  Fort there's been a lot more ups than downs, so we're really thrilled we've come to this agreement and we're going to be here for a long time to come."
Considering Royal Caribbean had placed its largest and newest ships (Oasis and Allure of the Seas) in nearby, and competitor, Fort Lauderdale, it made sense perhaps for Royal Caribbean to move its headquarters north as well.