In:
Royal Caribbean General Manager of Nordic and Baltic region, Roar Meidal,  reports that 86 percent more Nordic tourists go on Mediterranean Sea cruises this year, of which 58 per cent more Norwegians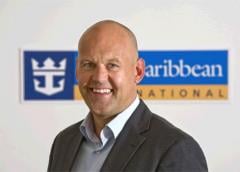 "We are very pleased that the Nordic people finally seem to realize the great benefits of the cruise has to offer as a holiday. We like to think that cruise offers the best of two worlds: on the one hand, an all-inclusive, relaxing holiday in the sun, on the other hand, a cultural experience with stops at ports such as Rome, Sicily, Athens, Santorini, Rhodes, Istanbul and Jerusalem," says Meidal.
Statistics show that Norwegian passengers account for the largest increase, by as much as 58 percent of the total increase.  Swedes are in second place with 23 percent increase, while both the Danes and the Finns can boast of a 10 percent increase. The preferred holiday is a 7-day cruise with some of Royal Caribbean's largest and most innovative ships, such as the Liberty of the Seas.