Royal Caribbean raises suggested gratuity by 20%
In:
Royal Caribbean raised the amount it suggests its guests tip its staff onboard its ships to 20%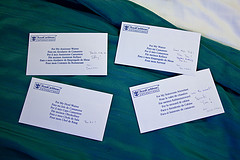 Royal Caribbean will start the new gratuity recommendations for cruises that depart on or after July 1, 2011.  At that time, passengers will be asked to tip $11.65 per day, up from $9.75 that was previously recommended.
Gratuities onboard are optional, but passengers who choose to prepay their gratuities will be forced to pay the higher rate.
The new gratuity suggestion is per passenger and applies to passengers of all ages. A family of four sailing on a week-long cruise who follows Royal Caribbean's newly suggested rates will now pay $326.20 in gratuities -- $53.20 more than in the past.
Of the $11.65 per day in gratuities, Royal Caribbean suggests $3.75 should be given to one's waiter, $2.15 to one's assistant waiter and $.75 to the head water. Royal Caribbean suggests the remaining $5.00 go to its housekeeping staff.