Royal Caribbean ship rescues six people on raft
In:
Royal Caribbean's Monarch of the Seas rescued six people adrift at sea on a raft during a recent cruise.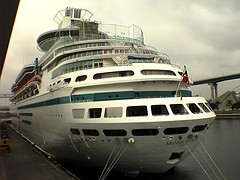 Monarch of the Seas was on its way out of the Bahamas when a passenger onboard the ship spotted the raft near Freeport, Bahamas.  The Coast Guard reports that the rescued people on the raft did not appear to have any life-threatening issues.  Officials estimate the group of six was floating for 15 days, but there was no way to know exactly how long.
Investigators said they think the people on the raft are migrants from Cuba. If they are, officials said the group will be sent back to their country.