Maine city to vote on cruise ship restrictions
In:
Rockland, Maine is set to vote on a proposal to limit the number of cruise ships that can visit the city each year after the debate was sparked last year when Royal Caribbean's Jewel of the Seas made it's inaugural visit to the city.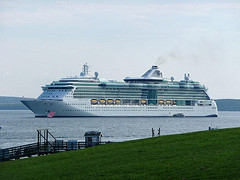 On October 18, Royal Caribbean's Jewel of the Seas is set to return but city commissioners are considering a proposal to limit only allowing three of the biggest ships per year -- one in May and two in October.
Rocklan's mayor is in favor of the proposal because of the strain on the area where passengers unload from cruise ship.  The mayor cites the harbor infrastructure is getting old and any repairs that would be needed would be footed by the taxpayers.  Local businesses are against the proposal, claiming the restrictions would ruin the city's chances of becoming a regular cruise ship destination.
Mayor McNeil says she expects at least one councilor will try to eliminate the restrictions on the large ships. The Chamber of Commerce says it has no problems with the rest of the plan, just the portion that would limit the number of ship visits.