In:
Today we have the exclusive opportunity to interview Maureen Brandt, who just won the Allure of the Seas Culinary Challenge, and is the new Chef de Cuisine for 150 Central Park onboard the soon to launch Allure of the Seas.  Maureen was generous enough to give us some of her time and offer us a look into how she managed to win this highly touted contest.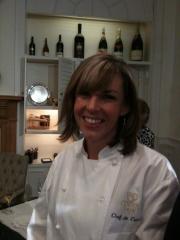 How did you find out about the Allure of the Seas Culinary Challenge and why did you feel compelled to enter it?
I received an email from The Culinary Institute Alumni Association announcing the challenge as the job of a lifetime.  Who can pass that up?  I love my business Cook In The Kitchen (catering and personal chef) but I've wanted to run a fine dining establishment for a while.  What a perfect opportunity!  My grandparents owned a travel agency, and my mom is a travel agent that has been on 55+ cruises and so it kind of runs in my blood.  I have no other real attachments aside from my black lab Stella so it seemed like a great idea.  How fabulous that I now get to design my own menu and be the chef of 150 Central Park with the most innovative cruise line in the world.
Prior to the Culinary Challenge, how much cruising had you done, if any?  If you had cruised before, what were your thoughts on cruising in general?
As I mentioned it kind of runs in my blood.  I have had the opportunity to cruise 5 or 6 times (can't remember right now.)  I've enjoyed each trip thoroughly.  It's so pleasant to unpack once but enjoy several different ports of call.  You really get the most bang for your buck out of any vacation of ever taken. 
To enter the contest, you had to include a dish that you can cook for the restaurant.  Tell us our readers what your choice was as well as why you chose that particular dish.  Was it because you thought it was your best dish that you make or was it something you thought would win over the judges?
The rabbit dish was something I developed when I was taking a continuing education course on culinary competition.  I ended up winning an American Culinary Federation sponsored competition with that dish, as well as working with a PR firm after cooking that for them.  It's my lucky rabbit's foot.  There wasn't much time to put together the video so I decided that would be the most logical choice because it was well developed, refined, and it looks beautiful.  I know it's somewhat controversial and not necessarily what everyone would choose.  After looking at the menu for 150 Central Park onboard Oasis I knew that I would have to make something else for the competition.  Royal Caribbean caters to a very international clientele and I needed to come up with something else using a little more mainstream proteins.  The final decision for the three courses was 
Chilled Lobster, Fennel, Carrots, Citrus, Caviar, and Tempura Battered Lobster Mitt
Provencal Lamb Loin, Dijon Potato Puree, Ratatouille, Pattypan Squash, and Olive Tapenade
Pistachio Cake, Whipped Rosewater Creme Fraiche, Carbonated Raspberries
The first portion of the contest involved voting from people all over the world where they viewed your video as well as the other contestants and voted on who they liked best.  Tell us a little about what that was like and if you did anything special to garner a few extra votes for yourself from friends and family.
Well having my own business has been an education in itself.  I learned how to market at a very basic level, and then outsourced.  I'm fond of saying that I'm an idiot-savant of sorts.  I can cook very well, but when it comes to writing, or design, or anything else I hire the best I can find and they make me look great!  For the actual voting period I posted on facebook like a fiend, and also emailed people nearly daily, much to their chagrin!  I also utilized the designer, writer, and photographer (Angela Ferraro-Fanning of 13ThirtyOne Design, Lindsay Berger of Inkwell Marketing, and Verna Pitts of Verna Pitts Photography respectively) that I used for my website to come up with a voting flier that I passed out absolutely everywhere, and for a press release that was sent to every news media in MN that I could think of.  Obviously that all helped!!
How did it feel to win the fan vote?
Spectacular!  I think I screamed like a teenage girl that just saw Justin Bieber!  I was cooking for an event that day and it was very difficult to concentrate following that.  It's amazing I didn't cut or burn myself!
After the fan vote, it was onto the cooking challenge last week.  Walk us through that experience and what it was like to put everything you had worked for on the line.
I didn't sleep well, for about a week.  In fact the night before I left for New York I was up sick all night!  I spent the day before writing out lists and packing very carefully.  I brought all of my own plates, so that was somewhat nerve-wracking as well.  I brought a few extra just in case any of them broke.  In the weeks preceding I hosted a few practice dinners where friends and clients could come and eat what I was going to prepare for the judges.  I just asked for a donation to cover the food cost.  That was a HUGE benefit.  Not only did it give me the chance to practice actually making the food and the timing, I could refine my plating, take some criticism, take photos for my assistant, and eat everything myself to make sure that I liked how it all worked together.

I worked as a teaching assistant at the Culinary Institute of America so being back was so much fun.  I got to see so many of the chefs and administrators that I spent a lot of time with and they all had pearls of wisdom for me.  I'm not going to lie though, it was very stressful!  The waiting was the hardest.  When I was in the kitchen prepping the first day, and cooking the second I was fine.  I was focused and ready.  I had mise en place lists for myself and my assistants, as well as the photos of the actual dish.  I had already labeled containers and was as organized as possible.  Which was a good thing because I used every second they gave me!  I can't thank my assistants enough, particularly Viraj Borkar.  I knew we were going to be okay when he told me about his personal kitchen experience and when he walked around the corner before we started and he had his headphones on listening to music to get focused just like me!
The judges named you the winner and you're now the next chef at 150 Central Park on Allure of the Seas.  What does that mean to you?
Well you can't wipe the smile off my face that's for sure! It was so gratifying to hear them call my name because it affirms every decision I have made about my career up to this point.  Cooking really isn't glamorous, it is hard physical labor and the pay is peanuts!  You do it for love of the game, but eventually you hope all of your hard work will pay off and that you will get to run the show someday.  I'm just so excited that all of the hours I've put in, and all of the research that I do has not gone un-noticed.  I know that this is just the beginning and that Royal Caribbean hired me specifically because of that work ethic and that I'm ready to put my best foot forward for them.  The real work is about to begin, but I appreciate the recognition along the way.
Let's get to know you a little bit more...
Favorite food cuisine (Mexican, Italian, chinese, etc)
I'm not sure I have one.  I call myself a human garbage can because I'll eat anything.  But I really do like bold flavors so I'm a fan of Mexican, Indian, and Thai.
Favorite drink to have on a cruise (either one you've had or one you think would be great on a cruise)
Corona's in the sunshine, wine pairings at dinner, and a specialty cocktail in a lounge.  I take the same unbiased approach to drinking as I do to eating.  I like it all! Dark beer, light beer, clear liquor, brown liquor, bubbles, white, and red wine.  No I am not an alcoholic!  I think the drink I most often order is a Manhattan on the rocks just like my dad! 
Favorite port of call to visit 
Monte Carlo.  I loved the luxury of it, seeing the palace and the casino, and driving the roads!  How fabulous! Plus it's just a hop skip and a jump to France and Italy.
Favorite song on the radio/iPod today
Somewhat embarrassing, but I'll give.  Right before I walked in to the kitchen before the finals I listened to Dynamite from Taio Cruz 3 times as loud as possible. There's a line in it where he sings that he'll be the last one standing, I just took that and ran with it!
You can visit Maureen's company, Cook in the Kitchen, as well as follow her on Facebook and Twitter. Congratulations Maureen!